Iraq
Yemen problems stem from Saudi airstrikes: Iraqi PM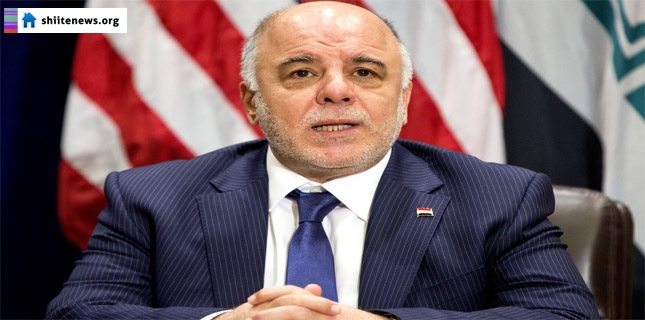 Iraqi Prime Minister Haider al-Abadi has condemned the Saudi Arab-led coalition force for carrying out airstrikes against Yemeni citizens.
The Iraqi Premier has lashed out at Saudi Arabia for conducting air raids against Yemen, saying Riyadh's deadly military campaign has created huge humanitarian problems in the impoverished country. Abadi made the remarks in Washington on Wednesday during his first official visit to the United States since taking office in September last year.
"To me, there is no logic to the operation at all in the first place," Abadi said, adding, "What is the aim? What are they trying to do? Mainly, the problem in Yemen is within Yemen.…There is a political problem."
The Iraqi premier also voiced concern over the Saudi aggression against Yemen, saying the move might be a precursor for a more assertive Saudi military role in the neighboring countries in the future.
He compared the Al Saud regime's regional ambitions to those of former Iraqi dictator, Saddam Hussein, and warned of the consequences of Riyadh's approach.
"The dangerous thing is we don't know what the Saudis want to do after this," he said, adding, "The idea that you intervene in another state unprovoked just for regional ambition is wrong. Saddam has done it before. See what it has done to the country."
In response, the Saudi ambassador to Washington, Adel Jubeir, said there was "no logic" to the Iraqi prime minister's comments, claiming that Riyadh "has no ambitions beyond its borders."
In addition, the Arab diplomat praised Washington's support for Saudi airstrikes against Yemen.
Saudi Arabia's military aggression against Yemen started on March 26, without a UN mandate, in a bid to restore power to the former fugitive president, Abd Rabbuh Mansur Hadi, a close ally of Riyadh.
Earlier this week, Colonel Sharaf Luqman, the spokesman for Yemen's armed forces and popular committees, said civilians and Yemeni infrastructure have been the target of the Saudi aggression.
The United Nations has called for an immediate "humanitarian pause" of at least a few hours each day to allow deliveries of urgently needed aid to the conflict-weary country.