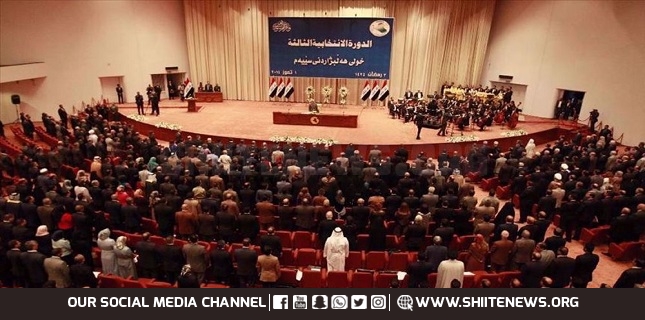 A major Iraqi political party has called on the Baghdad government to send the results of an investigation into the assassination of top Iranian anti-terror commander Lieutenant General Qassem Soleimani and his Iraqi trenchmate Abu Mahdi al-Muhandis, who were killed in a US drone strike near Baghdad airport three years ago, to the parliament.
The head of the Badr parliamentary bloc in Iraq's parliament, Mahdi Taqi al-Amerli, stated that clarification of ambiguities over the targeted killing of General Soleimani, Muhandis and their companions, and enlightenment of the Iraqi nation about circumstances surrounding their deaths are among the major priorities of his group.
"The central government should, therefore, send the results of an investigation into the assassination to the parliament in order for the facts to be publicly disclosed, and for the parties involved in the cowardly operation to be identified and brought to justice," Amerli pointed out.
Earlier, the Coordination Framework – an umbrella bloc of Iraqi Shia parties, urged the government of Prime Minister Mohammed Shia' al-Sudani to present the results of the probe into the assassination of Gen. Soleimani and Muhandis to the parliament.
General Soleimani, commander of the Quds Force of Iran's Islamic Revolution Guards Corps (IRGC), Abu Mahdi al-Muhandis, the second-in-command of Iraq's Popular Mobilization Units (PMU), and their companions were assassinated in a US drone strike authorized by Trump near Baghdad International Airport on January 3, 2020.
Two days after the attack, Iraqi lawmakers approved a bill that required the government to end the presence of all foreign military forces led by the US in the country.
Both commanders were highly revered across the Middle East because of their key role in fighting the Daesh Takfiri terrorist group in the region, particularly in Iraq and Syria.
On January 8, 2020, the IRGC targeted the US-run Ain al-Asad base in Iraq's western province of Anbar with a wave of missile attacks in retaliation for the assassination of Gen. Soleimani.
According to the Pentagon, more than 100 American forces suffered "traumatic brain injuries" during the counterstrike on the base. The IRGC, however, says Washington uses the term to mask the number of the Americans who perished during the retaliation.
Iran has described the missile attack on Ain al-Assad as a "first slap."