Iraq
Army to retake other areas after Tikrit victory: Iraqi defense minister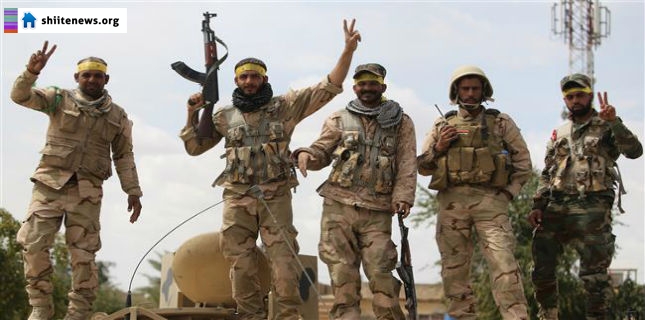 Iraqi Defense Minister Khalid al-Obeidi has praised the recapture of the northern strategic city of Tikrit from the ISIL Takfiri militants as a "magnificent victory," stating that units of government forces are now preparing to wrest control of other militant-held areas.
Obeidi announced the triumph on Wednesday, saying security forces have "accomplished their mission" in the month-long offensive to purge Tikrit, located 140 kilometers (86 miles) northwest of the capital Baghdad of the ISIL Takfiris.
"We have the pleasure, with all our pride, to announce the good news of a magnificent victory," Obeidi said in a video statement, adding that the Iraqi forces are going to take on ISIL militants in the western and northern provinces of Anbar and Nineveh.
"Here we come to you, Anbar! Here we come to you, Nineveh, and we say it with full resolution, confidence, and persistence," he said.
On Wednesday, Prime Minister Haidar al-Abadi, surrounded by jubilant forces, walked proudly along a street in Tikrit, carrying a national Iraqi flag.
Abadi noted that Iraqi military engineering units still need more time to clear Tikrit of booby traps.
"God willing, there will be a fund to rebuild areas destroyed by Daesh (ISIL) and the war. Tikrit and Salahuddin areas will be covered by this fund," the Iraqi prime minister said.
Tikrit massacre burial sites
Iraqi forces on Wednesday discovered burial sites in Tikrit that are believed to contain the bodies of hundreds of army cadets executed at the hands of the ISIL last June.
Interior Minister Mohammed al-Ghaban said a burial site has been found in a palace complex on the banks of the Tigris river.
"This place reminds us of those who were unjustly killed, it reminds us of the massacre," Ghaban said while sobbing.
"They were innocent people. Today the cowards were defeated… We will hunt them down wherever they are. We will bring security and peace to all of Iraq," he said.
Ghaban said one of the burial sites was found a few meters away in the riverside complex of palaces that former Iraqi dictator Saddam Hussein had constructed in his hometown.
"We found dozens of ID cards in a pile of waste near the site," policeman Hussein al-Rikabi said.
He said the documents matched the names of the army recruits, who were executed or went missing after ISIL terrorists overran the Speicher base in June 2014 and abducted the cadets.
Four ISIL element arrested in center of Tikrit
A security source, speaking on condition of anonymity, said Iraqi forces have arrested four ISIL militants as they combed areas across Tikrit for the terrorists.
The source added that the four Egyptian, Sudanese and Asian nationals had holed up inside a house in the center of the city.
On Tuesday, Abadi said units of government forces, backed by Shia and Sunni volunteer forces, retook control of Tikrit from ISIL Takfiris.
Tikrit had been seized by ISIL in June last year. The city's recapture now paves the way for the Iraqi army to take control of the country's second-largest city, Mosul.
ISIL started its campaign of terror in Iraq in early June 2014. The heavily-armed militants took control of the country's northern city of Mosul before sweeping through parts of the country's Sunni Arab heartland.
Iraqi soldiers, police units, Kurdish forces, Shia volunteers and Sunni tribesmen have succeeded in driving the ISIL terrorists out of some areas in Iraq.