Iraq
Iraqi army backed by Shia Fighters set to recapture Tikrit from ISIL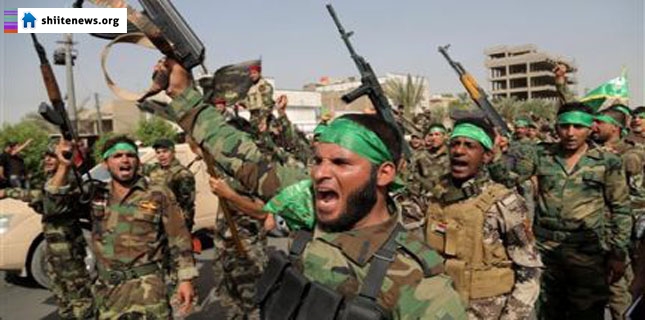 Iraqi army soldiers backed by Shia fighters are tightening the noose around the ISIL-held city of Tikrit, located on the Tigris River in the east.
On Wednesday, the forces advanced towards the city, which fell to ISIL following their lightning advance into Iraq from Syria in June 2014.
The army's operation to liberate the city is being conducted from five directions so the Takfiris can neither escape nor strengthen their defenses via sending reinforcement.
According to Iraqi media, a number of villages and oilfields near the city, which is the birthplace of Iraqi former dictator Saddam Hussein, have been retaken.
Reports said that the Ajil and Alas oilfields were recaptured along with the nearby village of al-Maibdi, situated on the road between Tikrit and Kirkuk.
Since the operation began on Monday, some 30,000 forces have been approaching the city with air support from Iraqi jets and helicopters.
The soldiers are opting for an ISIL stronghold called al-Dour, a small town some 19 kilometers (12 miles) away from Tikrit, which has already been encircled and awaits an offensive.
ISIL defends
The Iraqi state television said the militants set fire on an oil pipeline before they withdrew from Tal Kasiba, a village in the east of Tikrit, the provincial capital of Salahuddin province.
Meanwhile, ISIL released some propaganda images of the terrorists' vehicles and weapons, which they alleged were part of reinforcement in the province.
Lieutenant General Abdul Amir al-Zaidi told AFP earlier that the operation was focused on stopping more ISIL attacks and cutting their supply line.
The next step would be to "surround the towns completely, suffocate them and then pounce," he noted, adding that the militants had planted roadside bombs and were using sniper fire to slow the advance.
Civilians ISIL human shield
Meanwhile, rights group Human Rights Watch warned about ISIL's possible use of civilians as human shields.
"All commanders in Tikrit need to make sure that their forces protect civilians and allow them to flee the combat zone," said Joe Stork, the group's deputy Middle East and North Africa director.
The crisis in Iraq escalated after the ISIL terrorists took control of Mosul on June 10, which was followed by the fall of Tikrit, located 140 kilometers (87 miles) northwest of the capital Baghdad.
Ever since, the terrorists have resorted to atrocious crimes against the Iraqis in an attempt to breed fear amongst the nation and recruit more forces from around the globe.