Iraq
2 weeks ago; Relatives of Captured Peshmerga Urged prisoner exchange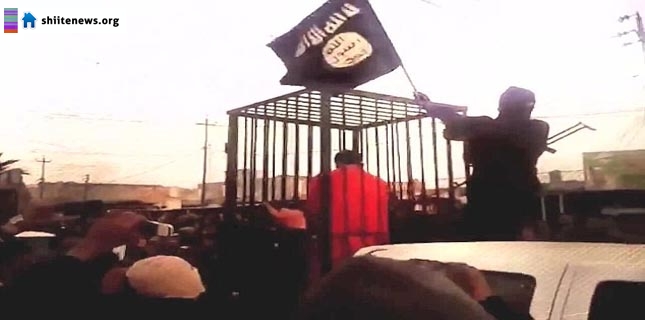 Relatives of 17 Peshmerga soldiers taken captive by the ISIS on early februray urged the Kurdish government to agree to demands for their release, and authorities say they are ready for an exchange.
"My son is a prisoner and held by ISIS in Hawija," said Muhammad Mahdi, the father of one of the captive Peshmergas, as he stood with relatives of 16 other Kurdish soldiers taken prisoner in a surprise ISIS attack on Friday near Kirkuk."ISIS is asking for a prisoner exchange," he told Rudaw.
He said that he and other fathers of captive Peshmerga had spoken to ISIS leaders in Hawija by telephone and that the group is ready to release the Kurds in return for a number of ISIS militants held by Kurdish forces.
"They have not asked for any prisoners," said Anwar Haji Osman, the deputy Peshmerga minister. "They have only asked us to return the bodies of their dead militants and they have specified exactly what bodies they want back," he told Rudaw.
"We are willing to give them back not only one, but 10 bodies for one Peshmerga," he added.
"ISIS releases video claiming to show 17 Kurdish fighters in humiliating procession through Iraqi city Procession reportedly took place in northwestern Iraqi city of Kirkuk Reports claim ISIS now has a presence in the oil rich Kurdish stronghold Jordanian pilot Muath al-Kaseasbeh burned to death in a horrific film released by ISIS. There are fears the Kurdish prisoners in the latest release could meet the same dreadful fate"
Today ISIS releases video claiming to show 17 Kurdish fighters in humiliating procession through Iraqi city of Kirkuk. Just as Jordanian Pilot Lt. al-Kaseasbeh was burned alive on camera, ISIS are planning to do the same with their latest prisoners, according to posts on social media.
Heads bowed in terror the orange-clad Kurdish fighters are paraded through streets filled with jeering militants in the latest horrifying video release from ISIS.
The parade, reportedly through the Hawija district in the southwest of Kirkuk, could be seen as revenge for horrific reports of Kurdish forces dragging the bodies of ISIS fighters through the streets of the city in the Kurdistan region of Iraq earlier this month.
In the nearly four minute long video 17 of the Iraqi Kurdistan military forces are driven one by one on the backs of white pick-up trucks with ISIS flag-waving militants toting AK-47s accompanying each prisoner.
At the end of the clip the long line of cages can be seen retreating into the sunset over the heads of massed crowds of militants.
On Sunday (before 2/2/2015 maybe 1 February 2015), ISIS released the pictures of the Peshmerga prisoners on different Facebook pages. Some of the prisoners' relatives say they have spoken with their sons via Facebook messenger since their capture.
"A total of 17 Peshmerga were led through the streets of what is apparently Kirkuk in northwestern Iraq Posts on social media suggested the Islamic State militants plan to set fire to the Kurdistan warriors The parade reportedly took place in Hawija in southwest Kirkuk, where ISIS is now said to have a foothold"
On that time members of the Kirkuk Provincial Council held a special meeting over the weekend to discuss ways to secure the release of the prisoners. Relatives worry that if the Peshmerga are transferred to Mosul – ISIS' stronghold in Iraq – chances for their survival will be slim.
Peshmerga forces have repulsed several ISIS attacks on villages in southern Kirkuk and areas around Gwer and Zumar, killing 253 militants, military officials said.
Pictures from the frontlines show swamps and irrigation canals littered with dead bodies of ISIS militants, many of them foreign fighters, a Kurdish commander said.
Kurdish officials have captured scores of ISIS militants over the past five months of fighting, which may put them in a strong negotiating position for the 17 Peshmerga captured on Friday or any future exchange.