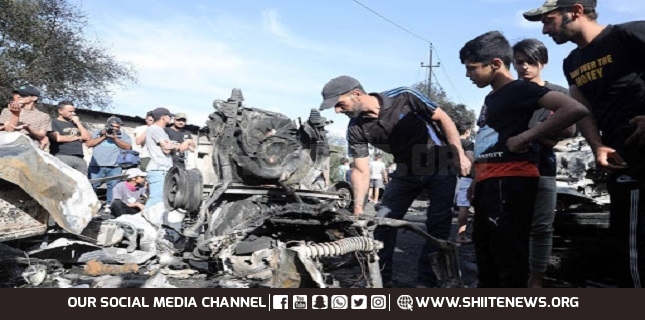 At least five civilians have lost their lives and nearly two dozen others sustained injuries when a powerful explosion ripped through a crowded area in the eastern flank of the Iraqi capital city of Baghdad.
A source with the Iraqi Interior Ministry, speaking on condition of anonymity, said the blast occurred on Thursday afternoon, when a car bomb went off near a marketplace in the al-Habibiyah area of Sadr City.
The source added that the huge explosion injured 21 people, destroyed several nearby shops and set fire to five passenger cars.
Iraqi security forces blocked the roads leading to the blast site, while ambulances evacuated the casualties to nearby hospitals and medical centers, the source noted.
There was no immediate claim of responsibility for the deadly attack, but such assaults bear the hallmarks of those carried out by remnants of the Daesh Takfiri terrorist group.
Iraqi President Barham Salih strongly condemned the Thursday car bomb explosion in Baghdad in a post published on his official Twitter account.
"The terrorist explosion against ordinary citizens in the al-Habibiya market of Baghdad, as we are in the holy month [of Ramadan], confirms the brazenness of terror groups and their desperate attempts to target our security and stability and push us back into dark days of the past," he tweeted.
Salih added, "We stand firmly against such attempts. We must support and strengthen our heroic security service in its combat against terrorist cells."
Bomb attacks have become rare incidents in Baghdad since the defeat of Daesh, announced by Iraq in December 2017, but sporadic attacks by those lonked to the terror outfit are reported.
MP: Evidence indicates Mossad's involvement in Baghdad explosion, attack on PMU forces
Meanwhile, Hassan Salem, an Iraqi lawmaker affiliated to the anti-terror Asa'ib Ahl al-Haq group – which is part of the Popular Mobilization Units (PMU), said evidence indicates the involvement of Israel's Mossad spy agency in Baghdad's car bomb attack as well as the attack on the 30th Brigade of the PMU fighters in the northern Iraqi province of Nineveh.
He added that the incidents came a day after a Mossad-linked facility came under attack by "unknown resistance forces" in northern Iraq.