Iraq
Iraqi President meet with Hashd al-Shabaab head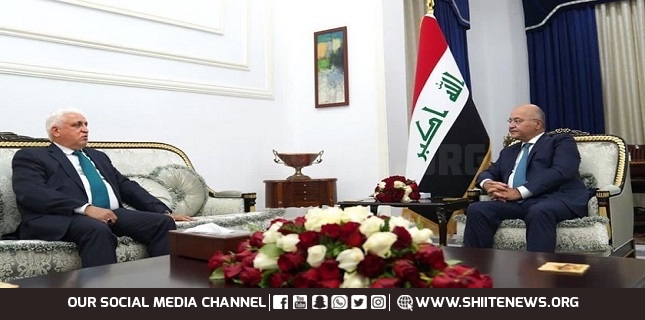 The Iraqi president met with the head of the Iraqi Popular Mobilization Force organization and rejected any interference in Iraq's internal affairs.
During a meeting with Iraqi Popular Mobilization Force (Hashd al-Shabaab) leader Faleh al-Fayadh on Sunday, Iraqi President Barham Saleh dismissed any interference in the country's affairs and stressed respect for Iraq's sovereignty.
The meeting comes just two days after the US Treasury Department placed al-Fayadh on its sanctions list on the grounds of human rights abuses.
The Iraqi presidential statement said that Saleh and al-Fayadh discussed the latest security developments in the country and stressed the need to strengthen the sovereignty of the government and security organizations in order to achieve security and stability.
The two sides stressed respect for Iraq's sovereignty and the rejection of any interference in the country's internal affairs, the statement said.
The US Treasury Department last Friday issued a statement announcing that al-Fayadh was on the US sanctions list, claiming that sanctions against the Iraqi official were linked to human rights abuses.
Washington's move was met with widespread condemnation of Iraqi political figures and officials, and on Saturday, the Iraqi Foreign Ministry issued a statement criticizing Washington's decision calling it unacceptable. 219