Iraq
Iraqi forces arrest deputy governor of Daesh in Anbar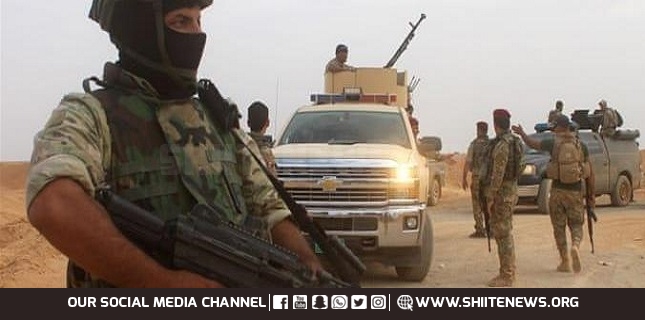 Iraq's Counter-Terrorism Service (CTS) has arrested the so-called deputy governor of Daesh the Iraqi province of al-Anbar, a senior military spokesman said.
The top Daesh commander was arrested on Monday by a CTS special force, according to a statement by Major-General Yahya Rasool, the spokesman for the Commander-in-Chief of the Armed Forces.
In the statement, seen by Shafaq News Agency, Rasool described the Daesh element as a "dangerous terrorist leader."
He said the terrorist was arrested after "intense monitoring and a high-level joint intelligence effort."
Rasool said the operation resulted in the arrest of two terrorists involved in Camp Speicher massacre in Saladin Governorate.
On June 12, 2014, Daesh terrorists killed around 1,700 Iraqi air force cadets after kidnapping them from Camp Speicher, a former US base. There were reportedly around 4,000 unarmed cadets in the camp when it came under attack by Daesh militants.
Following the abductions, the attackers took the victims to the complex of presidential palaces and killed them. The terrorists also threw some of the bodies into a river.
The massacre was filmed by Daesh and broadcast on social media.
An investigation committee later revealed that 57 members of Saddam Hussein's Ba'ath Party aided Takfiri Daesh terrorists in the massacre.
In his Monday statement, General Rasool also noted that the Iraqi Counter-Terrorism Service carried out two missions in the Fallujah district, which resulted in the arrest of three members of the terrorist gangs.
Daesh began a terror campaign in Iraq in 2014, overrunning vast swathes in lightning attacks. However, shortly after the beginning of Daesh's campaign, top Shia cleric Grand Ayatollah Ali al-Sistani issued a religious edict (fatwa) and called on his followers to rush to the national army's help in the fight against the Takfiri outfit.
The fatwa helped bring together Shia fighters, Sunni tribesmen as well as Christian and Izadi volunteers under the umbrella of the Popular Mobilization Units (PMU) to reverse Daesh's gains and ultimately in Iraq in late 2017.
After three years of fierce fight, former Iraqi prime minister Haider al-Abadi declared the end of military operations against Daesh and the end of the terror group's territorial rule in the country on December 9, 2017.