Iraq
Muqtada al-Sadr says ready to work with Hashd al-Sha'abi to end US presence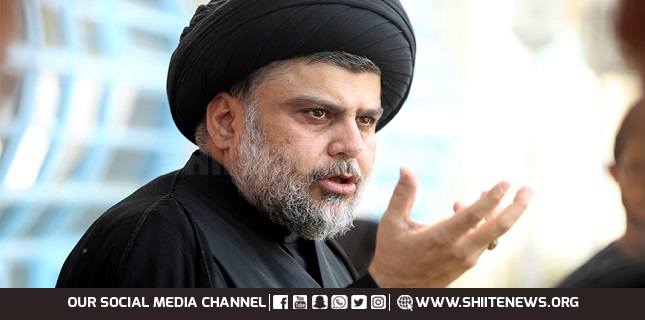 Senior Iraqi Shia cleric Muqtada al-Sadr says he is willing to work with the Popular Mobilization Units (PMU) — better known as Hashd al-Sha'abi — to end the United States military presence in Iraq through political and legal means.
In comments on Monday, Sadr warned that he will "take other actions" in cooperation with his rivals to kick out US troops if political and legal means do not work.
He at the same time called on Iraqis to avoid "irresponsible actions" that can be used to justify attacks on the Arab country.
Fighters loyal to Muqtada al-Sadr fought US troops for years following Washington's invasion of Iraq in 2003.
Sadr's comments came after the US forces in Iraq carried out an airstrike on a number of PMU facilities in the western Anbar Province, which led to the killing of nearly 30 people and injuring of over 50 others.
Iraq may "review" ties with US
The Iraqi government said on Monday it would summon the US ambassador over the attack, warning that Iraq's relations with the United States were at risk.
"American forces acted on their political priorities, not those of the Iraqis," a statement by the government said, adding that such strikes "violate the sovereignty of Iraq."
The attacks "force Iraq to review its relations and its security, political and legal framework to protect its sovereignty", the government added.
The warning came as demonstrators torched US flags in the Shia-dominated southern cities of Basra and Najaf as well as in Kirkuk, north of Baghdad, while lawmakers called for US troops to be booted out of Iraq.
Outgoing premier Adel Abdul Mahdi said it is up to the parliament to determine the next move, according to a video released by his office.
"We will see what parliament will decide. We are only a caretaker government," he said.
Parliament's deputy speaker, part of Muqtada Sadr's bloc, called on the Iraqi state to "take all necessary measures" in the face of the US attacks.
Dozens of lawmakers called on the government to review an agreement allowing the deployment of 5,200 US soldiers in the country, saying the strikes amount to a violation that renders the pact obsolete.