Iraq
President Salih calls for national dialog on recent acts of violence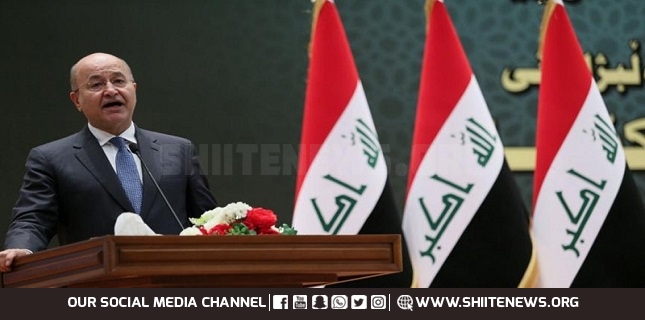 Iraq's President Barham Salih has condemned as "unacceptable'' the recent acts of violence targeting protesters, journalists and security forces amid a spate of unrest gripping the Arab country, warning against foreign attempts to fish in troubled waters.
"The targeting of peaceful demonstrators and security forces with live bullets, and the targeting of media and media workers is unacceptable in Iraq, which we have pledged to be a democratic, in which rights and freedoms are respected, and where all abide by the Constitution," Saleh said during a televised speech on Monday.
A wave of protests began in Baghdad and some other Iraqi cities a week ago, with the participants calling for better living conditions and more government efforts to end the nation's economic woes less than two years after the country declared victory over the Takfiri Daesh terror group.
Salih went on to say that Iraqi people have the right to hold peaceful rallies, urging security forces to preserve the rights of all Iraqis.
He asked the protesters "to join a constructive and genuine dialog within the national framework that guarantees informing the people about the steps of reform, and holding direct and daily meetings with our youth in all cities."
The Iraqi leader further called for restraint and de-escalation in order to prevent non-Iraqis from interfering in the national dialog, proposing a government reshuffle and a review of the electoral law that meets the Iraqi people's "national ambitions."
Salih expressed support for a "fundamental ministerial reshuffle," while announcing a series of measures to combat corruption and provide better job opportunities and services — a key demand of the protesters.
The president urged the parliament to enact reforms, including electoral reform, to address the demands of demonstrators.
President Salih also reiterated that an inquiry will be launched into the deadly violence "in order to prevent the use of excessive force and to follow the rules of engagement."
The president assured the nation that "the right to protest and freedom of expression are guaranteed by the Iraqi Constitution."
On Sunday, the Iraqi government announced a series of reforms after an "extraordinary" session overnight in response to the sweeping unrest.
Confronted by its biggest challenge since coming to power just under a year ago, Prime Minister Adil Abdul-Mahdi's cabinet also issued a decree including 17 planned reforms, such as land distributions and increased welfare stipends for needy families.
Authorities have asked protesters to give them time to implement the reforms.
Grand Ayatollah Ali al-Sistani, Iraq's top Shia cleric, has urged both security forces and protesters to avoid violence.