Iran
We declare that we do not want war but we are fully ready for war: General Salami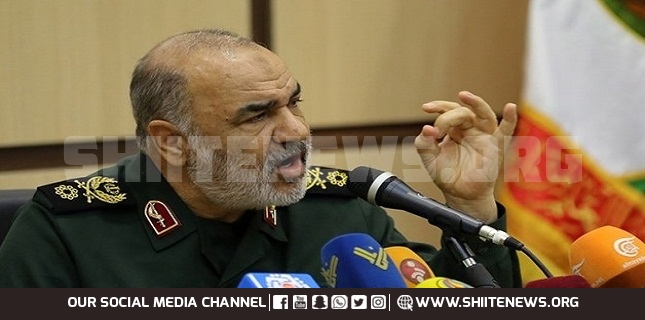 Commander of the Islamic Revolution Guards Corps (IRGC) Major General Hossein Salami confirmed downing of a US spy drone on the Southern coasts of Iran on Thursday, stressing that the move should alert Washington officials to stay away.
"At dawn, the IRGC Air Force bravely downed an enemy spy drone which had crossed our borders and was violating our national security," General Salami said, addressing a congress in the Western province of Kurdistan on Thursday.
He added that the incident sent "a clear message" to the US and other enemies that Iran will show a firm and crushing response to any aggression.
"Borders are our red lines and any enemy which violates them will not go back home and will be annihilated. The only way for enemies is to respect Iran's territorial integrity and national interests," General Salami said.
"We declare that we do not want war with any country but we are fully ready for war and the today incident was a clear instance of this precise message," he underscored.
A US-made Global Hawk spy drone was shot down by the IRGC on the Southern coasts of Iran in Hormozgan province today.
The IRGC announced in a statement early Thursday that the US-made Global Hawk surveillance drone was brought down by its Air Force near the Kouh-e Mobarak region in the Central district of Jask after the aircraft violated Iran's airspace.
The RQ-4 Global Hawk unmanned aircraft system (UAS) can fly at high altitudes for more than 30 hours, gathering near-real-time, high-resolution imagery of large areas of land in all types of weather.
Meantime, a US official said a US Navy MQ-4C Triton high-altitude drone was shot down by Iranian surface-to-air missile.
Iran has downed many other US drones as well, and they have always started reproducing them after conducting reverse engineering on them.
-General Salami