Iran
US Supporting ISIS Terrorists, Spreading Chaos Across West Asia: Iran Cmdr.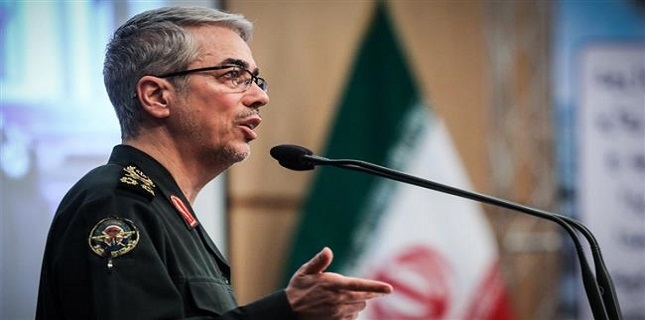 Iran's top military commander has accused the US of spreading crisis across Western Asia by acting as a patron to the ISIS Takfiri terrorist group.
Chief of Staff of the Iranian Armed Forces Major General Mohammad Baqeri made the remarks at the 6th Indian Ocean Naval Symposium in Tehran on Monday. The event has drawn 35 high-ranking military delegations from around the world.
"By supporting ISIS, the United States has beset a large part of Western Asia with crisis, and paved the way for displacement and bloodshed," he said.
Major General Baqeri said, "The US and some powers fan disorder across the world by dispatching military units to various regions and using the language of force."
He described the recent coordinated attack by the US, the UK, and France against Syria's capital Damascus and the western Syrian city of Homs as a clear example of "illegal behavior."
The military chief, meanwhile, said some superpowers' naval presence in the Indian Ocean and their interference in the waters had triggered insecurity, with the ongoing massive bombardment of Yemen serving as a case in point.
The US and the UK, which have warships anchored off Yemen, have been supporting Saudi Arabia's pummeling of the impoverished nation by lending the kingdom generous arms support, logistical assistance, including coordinates for precision bombing, and aerial refueling of Saudi warplanes.
"They [the powers] pave the ground for war by sending arms to various regional countries, including Saudi Arabia," Chief of Staff of the Iranian Armed Forces said.
The general also said the security situation of the Indian Ocean is directly linked to the security of other regions in the world.
He said Iran, as a country pioneering in the fight on terrorism, is prepared to offer its relevant experience to other countries.
Major General Baqeri noted that as many as 51 Iranian naval groups have been sent to international waters to fight piracy.
Meanwhile, addressing the gathering, the commander of Islamic Republic of Iran Navy Rear Admiral Hossein Khanzadi regretted that the proposal to set up a combat group by Indian Ocean Naval Symposium members –made by Iran more than six years ago- has not gone any further than the agenda of a closed-door meeting of top commanders.
The Iranian Navy commander said that formation of such a combat group, in addition to the formulation of a "common tactical language for coordinated naval measures", would contribute to stability.
Admiral Khanzadi also voiced the Iranian Navy's resolve to achieve that purpose with practical measures, hailing the IONS' success to establish task forces on fighting piracy, dealing with natural disasters, and exchanging information.
As regards the security of maritime areas in the world, the Iranian commander stressed that security of every region should be ensured by regional countries, warning that foreign naval presence would impose foreign security arrangements on a region.