Iran
Iran's Bahrain criticism irks PG council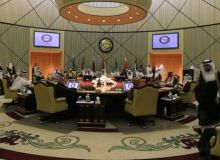 The [Persian] Gulf Cooperation Council foreign ministers met in the Saudi capital, Riyadh, amid growing tension between Iran and the Arab states over Tehran's refusal to support Western-backed autocratic regimes' crackdown on peaceful protesters.At Sunday's extraordinary meeting, Saudi Arabia and the United Arab Emirates accused Iran of interfering in Bahrain affairs after Tehran warned Riyadh that it was "playing with fire" by deploying troops in neighboring Bahrain.
To help the Bahraini government crush the anti-government protests, Saudi Arabia has deployed more than 1,000 troops to the country at the request of Manama.
In a similar move, the UAE has dispatched around 500 police forces to the oil-rich Persian Gulf monarchy.
Bahrain's government has continued its military crackdown on anti-government protesters who demand the overthrow of the al-Khalifa dynasty on top of constitutional reforms.
Several Bahrainis have lost their lives so far and hundreds of others have sustained injuries following the violent crackdown on the anti-government protesters.
Saudi Arabia, Bahrain, Kuwait, Oman, Qatar, and the United Arab Emirates are members of the [Persian] Gulf council.
When Iraq attacked Iran back in 1980, the rulers of the Persian Gulf countries, namely Saudi Arabia, Kuwait and the UAE, offered billions of dollars in aid to executed Iraqi dictator Saddam Hussein to kill innocent Iranian civilians.
Analysts say that despite being mistreated by the Persian Gulf states, Iran has always responded with compassion to its Arab neighbors.
When Saddam invaded Kuwait in 1990, the Persian Gulf states all voiced regret for supporting the Baghdad regime, and apologized to Iran. Tehran overlooked the animosity of Kuwait and later sent its oil workers to the country to help put out the fire engulfing the Arab country's oil wells.
Iranian incumbent President Mahmoud Ahmadinejad has held the United States accountable for the Saudi-led invasion of Bahrain.
The US has kept silent on the severe repression in Bahrain and Manama's raids on hospitals to abduct the injured in the protest rallies.
Bahrain and Saudi Arabia are both US allies in the Persian Gulf region and the Middle East.
Bahrain is also home to the US Navy's Fifth Fleet.
Back to top button