Iran
Top Shia Cleric Warns Saudi Arabia of Wahhabism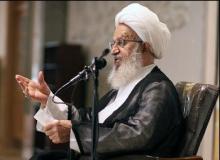 According to the Shiite News,'Iran's senior cleric Grand Ayatollah Naser Makarem Shirazi has warned the Saudi Arabian government against siding with anti-Shia extremists in the Arab kingdom.
"Reports from Saudi Arabia indicate that Wahhabi extremists have not abandoned offense against Shia Muslims and are writing and publishing more books against the Shia faith than the past years," ISNA quoted Ayatollah Makarem Shirazi as saying on Wednesday."An anti-Shia Persian channel has [also] been launched," the prominent cleric regretted.
"Our message to Saudi rulers is that they [should] separate their stance from Wahhabis," he urged, warning Riyadh against confronting Shiism, which he described as the dominant faith in the Middle East.
Ayatollah Makarem Shirazi called on Saudi leaders to "reach out to Shias in Iran, Iraq and Lebanon and stand up against Zionists and the enemies of Islam."
"It would be in your interest and for the good of Islam and the region that you separate your stance from the Wahhabis and avoid confrontation with Shias," he reiterated.
He criticized the "ignorant" Wahhabi extremists for their "inhuman acts" and resorting to violence against Shias. "If your logic is strong, why do you avoid a debate for the fear of a response?" he questioned.
Wahhabism is an extremely intolerant interpretation of Islam practiced in Saudi Arabia, which gained momentum after the discovery of oil in the kingdom in 1938.
Back to top button