Iran
After 9/11, world dose not trust US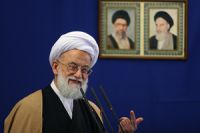 Tehran interim Friday Prayer Leader Ayatollah Mohammad Emami Kashani has underlined that President Dr. Mahmoud Ahmadinejad remarks at the UN General Assembly have been welcomed by the world nations.
Referring to President Ahmadinejad keynote speech at UN, in which the president urged the formation of a fact-finding committee on 9/11 incidents, Ayatollah Kashani pointed out that the international community and even many individuals and groups in the US accept this  stance.
He referred to the US crimes in the aftermath of 9/11, under the pretext of this incident, such as the occupation of countries and massacre of nations, while underlining that the world nations no longer trust the US statesmen reasons and stances in this regard.
In further remarks and in reaction of the claims of Western states, including the US, to support human rights, Tehran's interim Friday Prayer leader pointed out the establishment of secret prisons; practice of torture in Abu Ghraib and Guantanamo Prisons; and unwavering support for the crimes committed by the Zionist regime, including the Zionist commandoes' assault on the Gaza-bound Freedom Flotilla, as the clear examples of violation of human rights by the US administration.
Ayatollah Kashani went on to remind that these fake stances lead to awakening of nations and clarification of facts, such that the world's peoples seek refugee in the 12th Infallible Imam of the Prophet of Islam Mohammad (PBUH) Household, Imam Mahdi (May God Hasten His Reappearance).
Tehran interim Friday Prayer leader also referred to desecration of Holy Qoran in the US, and pointed out that Bible has lauded the Holy Prophet of Islam Mohammad (PBUH) and the Holy Qoran, while considering sacrilege of Holy Qoran as the conspiracy of Zionists.
Ayatollah Kashani also reminded that desecration of Holy Qoran, which is full of kindness, leads to awakening of the international community toward the true and blessed nature and identity of Holy Quran.