Iran
Ayatollah Khamenei: Mideast wars totally political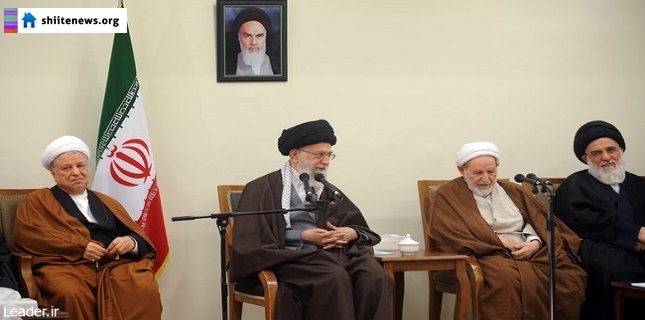 Leader of the Islamic Revolution Ayatollah Seyyed Ali Khamenei says the ongoing wars in the Middle East are "totally rooted in political motivations."
The Leader on Thursday called on clerics to thwart "the American and Zionist plot to create divisions" and avoid touching on divisive issues among Shia and Sunni Muslims.
"The enemies of Islam are trying to turn these differences into a religious strife so that they don't end easily. We must not contribute to this dangerous goal," Ayatollah Khamenei told members of the Assembly of Experts in Tehran.
The Leader warned against enemy plots to infiltrate the country, saying Iranian officials as well as people are the main targets of such a plot.
Ayatollah Khamenei said the enemy is attempting to sway Iranian officials in their decision-makings in its own favor.
By doing so, the Leader added, the enemy would no longer need to directly interfere in Iran as it will take control of things in its hands indirectly, the Leader said.
Ayatollah Khamenei said he does not approve of severing ties with the West but called on Iranian officials to remain vigilant in their interactions as Iran has been already hurt by the policies of Western countries.
"We have been harmed by the West and we should not forget what the West has done to us. I am not in favor of cutting ties with the West, but we should know with whom we are interacting."
"We should have relations with the entire world except the US and the Zionist regime (Israel) but we should know that the world is not limited exclusively to the West and Europe," the Leader added.
Elsewhere in his remarks, Ayatollah Khamenei once again praised the high turnout in February 26 parliamentary and Assembly of Experts elections, saying the Iranians demonstrated their allegiance to the Islamic establishment by voting en masse.
The turnout in Iran was higher than in many other countries, including the United States, the Leader said.