Iran
Russia ready to upgrade cooperation with Iran, Putin tells Raeisi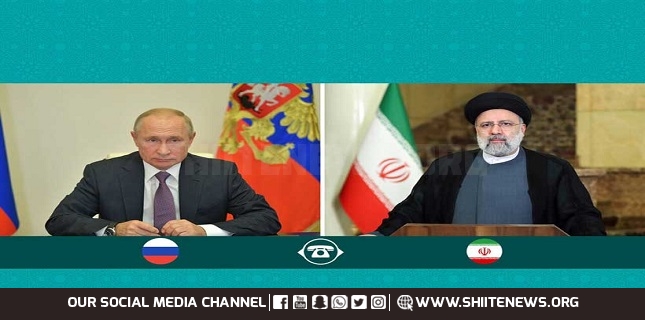 Russian President Vladimir Putin says his country is ready to upgrade cooperation with Iran in different fields as he held talks with President Raeisi for the second time in less than ten days.
The Iranian and Russian presidents discussed bilateral ties and regional developments during a phone conversation initiated by the Kremlin on Thursday.
During the phone conversation, Raeisi stressed the need to boost bilateral cooperation and coordination in various fields.
He also described as "positive and constructive" the agreements between the two countries for expanding cooperation in the fields of energy and transit.
For his part, Putin said Moscow is ready to boost cooperation with Tehran in the areas of energy as well as transit.
Iran and Russia are working to advance the North-South corridor which will facilitate transportation and greatly reduce transportation time.
In 2002, Russia, Iran, and India signed an agreement for the International North-South Transport Corridor (INSTC), a 7,200 km multi-mode network of ship, rail, and road route for moving freight between India, Iran, Afghanistan, Azerbaijan, Russia, Central Asia and Europe.
The INSTC is seen a game-changer that will shorten the distance and lower the cost of transportation from South Asia to Europe through Iran and Russia and potentially serve as an alternative to the Suez Canal for East-West trade.
Importance of Astana Format
The two leaders also discussed the situation in Syria during the conversation. Raeisi stressed that Iran supports solving the Syrian crisis through the Astana Format.
Putin also highlighted the role of Astana talks in solving the Syrian conflict, noting that all sides are committed to the format.
Iran and Russia, as the allies of the Syrian government, as well as Turkey, which sides with the opposition, set up the Astana peace process in January 2017 intending to put an end to the Syrian conflict through the involvement of the Syrian government and the opposition.
The leaders of Russia and Iran also agreed "to maintain contacts at different levels," the Kremlin's press service said, TASS reported.
The two leaders had discussed issues of mutual interest on January 18. Raeisi had then expressed Iran's readiness to play a positive intermediary role in ending the war between Russia and Ukraine.
"The Islamic Republic invariably lays emphasis on the [importance of] strengthening of regional convergence and [points out] the detrimental effect of the foreign intervention [in the region]," he said then while referring to developments in the Caucasus region and Syria.
The latest phone conversation comes a year after Raeisi made a two-day visit to Moscow. After arriving in Tehran on January 21, 2022, Raeisi told reporters that "fundamental agreements" on expanding all-out bilateral relations were clinched during the trip.