Iran
Iranian Ground Force takes delivery of smart air defense system: Commander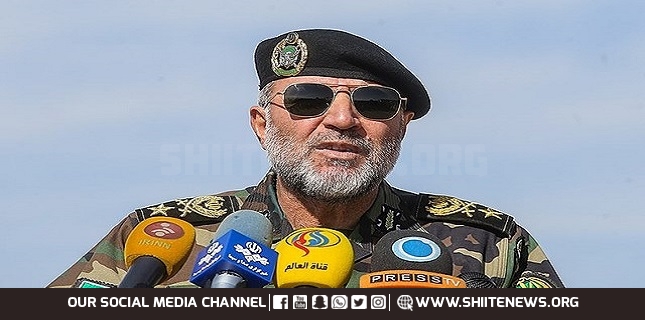 Commander of the Iranian Army's Ground Force Brigadier General Kioumars Heydari says his force has taken delivery of a sophisticated and smart air defense system developed and manufactured by the country's military experts and technicians.
Heydari made the remarks in an exclusive interview with Fars news agency on Monday, stressing that it is absolutely essential that the Ground Force units acquire state-of-the-art armaments in order to enhance their efficiency and be capable of responding to present-day operational needs.
He went on to highlight that the Iranian Army's Ground Force has already submitted three grandiose plans, dubbed Labbaik (Allegiance) 1, 2 and 3, to the Commander-in-Chief of the Iranian Armed Forces Ayatollah Seyyed Ali Khamenei.
The first plan, called Labbaik 1, is aimed at redesigning the structure and mobilization of the armed forces, and enabling them to impose their military might on the enemy in close-range ground battles.
The senior Iranian commander highlighted that formation of mobile offensive and quick reaction units was among the objectives defined for Labbaik 1 plan, stating that efforts are still underway to formulate the cyber, missile and drone aspects of the plan in proportion to modern operational needs.
Heydari underscored that Labbaik 2 plan particularly focuses on arming the Iranian Army's Ground Force with munitions which meet the four features of being long-range, precision-strike and smart, and enjoy the ease of network connectivity
He said the homegrown weapons being developed under the plan should be able to strike the minimum operational depths of enemy's forces, which Iran has set at 300 kilometers, enjoy precision-strike capabilities since future wars would take in effectiveness rather than destruction, be smart so that they would devastate a strategic target once fired, and effortlessly connect to the intended network.
Heydari added that the Iranian Army's Ground Force has received the first smart air defense system, which possesses advanced technological capabilities.
"Our drone unit has been established with several very extensive regional bases," he said, noting that all of Iranian-developed unmanned aerial vehicles are sophisticated, smart and precision-guided.
The commander of the Iranian Army's Ground Force also said the work on optimization of the 155mm artillery units has been completed, and efforts are underway to upgrade other units.
Heydari said Labbaik 3 plan focuses on engineering matters, namely construction of barracks, medical facilities and institutional buildings.
Iranian military experts and engineers have in recent years made remarkable breakthroughs in manufacturing a broad range of indigenous equipment, making the armed forces self-sufficient.
Iranian officials have repeatedly underscored that the country will not hesitate to strengthen its military capabilities, including its missile power, which are entirely meant for defense, and that Iran's defense capabilities will be never subject to negotiations.
Ayatollah Khamenei has repeatedly called for efforts to maintain and boost Iran's defense capabilities, decrying enemies for questioning the country's missile program.