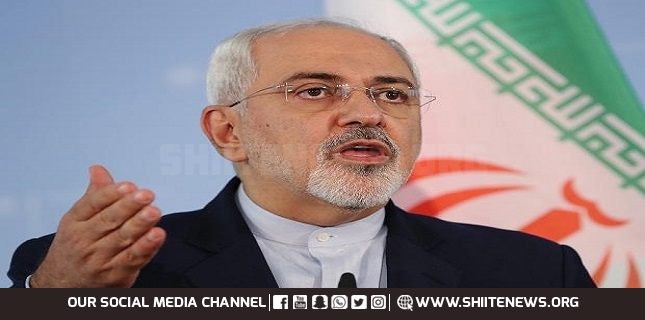 Iran's foreign minister says the apartheid regime of Israel not only steals people's land and homes, but also shoots innocent worshippers in one of the holiest mosques for Muslims.
Mohammad Javad Zarif made the remarks in a post on his Twitter account on Monday in reference to the latest wave of violence by the Israeli forces against the Palestinian people in Jerusalem al-Quds and al-Aqsa Mosque, which has so far seen hundreds of Palestinians injured, many in critical condition, after several days of violent clashes.
Al-Aqsa Mosque and Bab al-Amoud (Damascus) Gate in Jerusalem al-Quds' Old City as well as Sheikh Jarrah neighborhood have witnessed a spike in Israeli atrocities in recent weeks.
The Palestinian Red Crescent Society announced that at least 305 Palestinians were injured on Monday alone, several in critical condition, after they were attacked by Israeli forces who fired stun grenades and rubber bullets in clashes outside al-Aqsa Mosque in occupied East Jerusalem al-Quds.
In his tweet, the Iranian foreign minister censured the Israeli regime's moves against the Palestinian people and said, "It wasn't enough for the Israeli regime to steal people's land & homes; create an Apartheid regime and refuse to vaccinate civilians under illegal occupation."
"It had to shoot innocent worshippers inside Islam's 3rd Holiest Mosque upon Islam's Holiest Eid," in reference to the upcoming Eid al-Fitr, which marks the end of the holy fasting month of Ramadan.
Zarif discusses Jerusalem al-Quds tensions with Turkish counterpart
Later on Monday, Zarif called his Turkish counterpart, Mevlüt Çavuşoğlu, to discuss the latest situation in Jerusalem al-Quds and other developments in the occupied Palestinian territories.
The two foreign ministers agreed that if the Monday session of the United Nations Security Council failed to reach a conclusion on how to end Israel's aggression against Palestinians, Iran and Turkey should take advantage of the United Nations General Assembly as well as the extraordinary meeting of the Organization of Islamic Cooperation to address this issue.