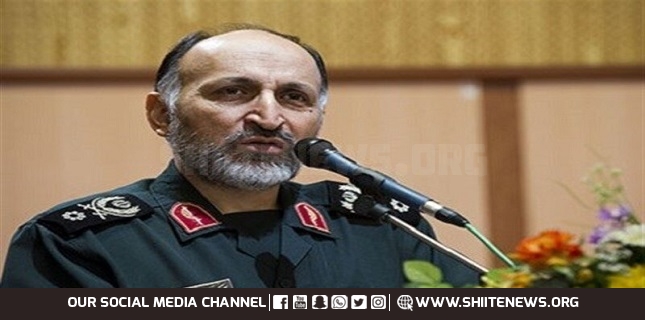 Deputy Chief of the IRGC Quds Force General Mohammad Hejazi has passed away after years of suffering from the effects of chemical weapons used during the Iraqi war of the 1980s on Iran, IRGC spokesman Ramezan Sharif says.
"This honorable martyr had been exposed to chemical agents during the Sacred Defense and had been suffering from the effects. He also contracted the coronavirus a few months ago, from which he recovered," Sharif said Monday.
"A medical commission that formed yesterday at Baqiyatallah Hospital identified the cause of the martyrdom as the chemical effects," he added.
In a statement on Sunday evening, the IRGC said that Gen. Hejazi had achieved the high degree of martyrdom and "joined the ranks of martyrs after years of tireless and sincere efforts in various fields to protect the Islamic Revolution and serve the establishment and the Islamic homeland".
Gen. Hejazi, 65, was a veteran of Iraq's imposed war on Iran in the 1980s, which lasted eight years. After the war, he served as the commander of Iran's Basij volunteer force for ten years and as the deputy commander of the IRGC for a year.
He was named the deputy commander of the IRGC Quds Force after the former prominent commander of the force, Lieutenant General Qassem Soleimani, was assassinated in a US airstrike in Baghdad in January 2020. He replaced Brigadier General Esmail Qa'ani, who was named the new commander of the force.
In the statement, the IRGC congratulated the Commander-in-Chief of the Iranian Armed Forces Ayatollah Seyyed Ali Khamenei, the Iranian nation, General Hejazi's family, his comrades in arms in the IRGC and Basij, and fighters of the Resistance Front over his glorious martyrdom, but also extended its condolences on the loss.
Gen. Hejazi's passing also prompted huge outpourings of condolences from top Iranian authorities and commanders, including Judiciary Chief Ebrahim Raeisi, Parliament Speaker Mohammad-Baqer Qalibaf, Chairman of the Chiefs of Staff of the Iranian Armed Forces Major General Mohammad Baqeri, and Foreign Minister Mohammad Javad Zarif.
Raeisi praised Hejazi as a "sincere and faithful commander" who put great efforts to help the Islamic Resistance Front.
"In addition to playing a role in the victory of the Revolution, commanding during the Sacred Defense (Iran-Iraq war) era and organizing the Basij force, General Hejazi was a 'shining star of the Axis of Resistance,'" Qalibaf wrote in his message.