Iran
Iranian FM Zarif meets with Masrour Barzani at final leg of his trip to Iraq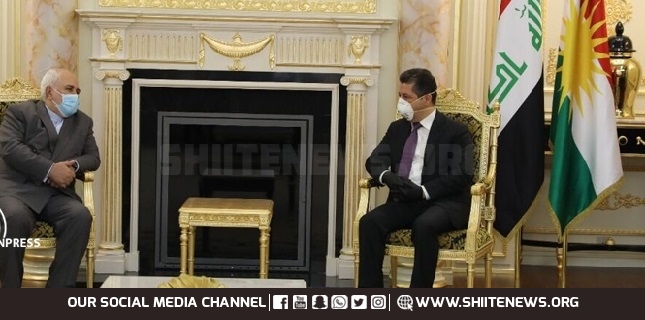 The Foreign Minister of the Islamic Republic of Iran met with the Prime Minister of the Iraqi Kurdistan Region, in Erbil at the end of his one-day visit to Iraq.
During the meeting on late Sunday, Mohammad Javad Zarif and Masrour Barzani examined the ways of expanding relations and developing Tehran-Erbil relations in different sectors.
The two sides also stressed the need to strengthen economic and trade relations between Iran and the Iraqi Kurdistan region.
Consultation on issues related to the coronavirus pandemic and offering Iran's experiences and assistance in dealing with the disease and domestic and regional issues were other important topics of Barzani and Zarif talks during this meeting.
Zarif arrived in Baghdad on Sunday morning at the head of a political delegation and left Baghdad for Erbil, the capital of the Kurdistan Region, after meeting with Iraqi officials.
In Baghdad, Zarif met with the Iraqi President, the Prime Minister, the Speaker of the Parliament, the Foreign Minister, the Chairman of the Supreme Judicial Council, the Head of the Popular Mobilization Forces, the Chairman of the Fatah Coalition and the Leader of the Iraqi National Wisdom Movement.
In these meetings, international, regional issues, and the case of the assassination of Major General Qasem Soleimani, the commander of the Quds Force of the Islamic Revolution Guards Corps (IRGC), and Abu Mahdi al-Muhandis, the deputy head of the Iraqi Popular Mobilization Forces, were discussed.
Iranian Foreign Minister Mohammad Javad Zarif tweeted on Sunday before leaving for the Iraqi Kurdistan region that his consultations with Iraqi officials were productive.