Bahrain
Saudi Regime Cornered Beast, Vicious over Defeats: Bahraini Opposition Leader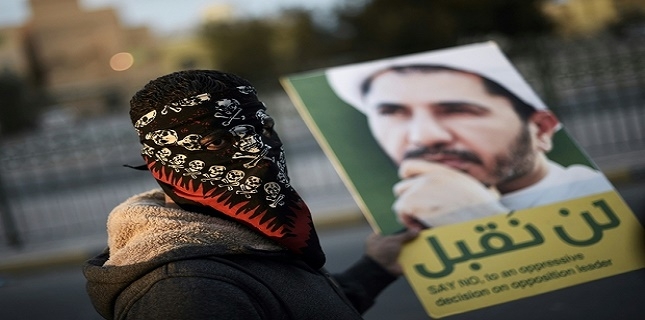 "The world is starting to realize the vicious nature of Saudi Arabia, and that of the dictatorships supporting it in the region", Leader of Bahrain Freedom Movement, Saeed Al-Shehabi said in "Conference to Support the Yemeni People".
The two day International Conference to Support the Yemeni People (Aug 20-21 2016) was held in London to discuss the Saudi aggressions against Yemen.
Yemen war started when Saudi Kingdom launched airstrikes to reinstall the former President, Ali Abdullah Saleh, overthrown by Ansarullah opposition group in 2015. More than 10,000 people have been killed in Saudi attacks in the last 16 months.
Prominent Yemeni and Bahraini opposition group leaders along with political and intellectual figures from other countries participated in the conference including British MP, Francie Maloy, from the Scottish National Party, and Chief of Staff of "Unite the Union" [Britain's biggest trade union], Andrew Murray.
Saudi regime's military intervention in favor of neighboring Bahrain's monarchy, al Khalifa, to suppress the country's 2011 pro-democracy uprising was also another topic wildly mentioned during the conference.
Leader of Bahrain Freedom Movement Saeed Al-Shehabi, who was one of the of the conference's lectureres, in an interview with Bahrain Mirror news site, said "Saudis are starting to feel they have been defeated in Bahrain, when you enter a country to stop a revolution and it doesn't stop, then that means you have failed your mission".
Bahraini opposition groups began their democracy-seeking demonstrations in 2011 initially calling for equity for the majority Shiite population. Civil demonstrations were suppressed Al Khalifa regime cultivating in a deadly night raid on 17 February 2011 against protesters at the Pearl Roundabout in Manama known locally as Bloody Thursday.
Bahrain's ruling monarch called on the Peninsula Shield Force, the military side of the Persian Gulf Cooperation Council (PGCC) and the western neighbor, Saudi Kingdom to help him stop the uprising. On 14 March 2011 the Force units led by Saudi Kingdom crossed King Fahd Causeway connecting the two countries over the Persian Gulf.
Bahraini groups called the move an occupation and a declaration of war.
Pro-democracy demonstrations, however, never stopped in Bahrain weekly demonstrations have been held up to now with tens of thousands Bahrainis have repeated their demand for an end to the ruling of Al-Khalifa monarchy.
Referring to the situation at hand in Manama, al-Shahabi said "the situation in Bahrain is deteriorating because the Saudis are furious at how these people can continue protesting every day, 5 and a half years after they started so they are angry. Saudi Arabia is like a beast that is being cornered and becoming more vicious".
Addressing Bahraini people during the Conference, the opposition leader stressed "This regime which had occupied the country some decades ago must go, and it has proven itself to lack the national credentials to rule. When you hand over sovereignty to foreign powers, and totally segregate the natives and identify with the foreign forces, then simply you have forfeited your mission, and thus you are simply illegal".
Saudi Arabia has been a prominent supporter for the Sunni minority ruling in Bahrain, opposing any kind of political openness or democracy fearing it may lead to the end of its puppet monarchy, since it is highly plausible that the ruling minority won't survive any form of elections with an opposing Shiite majority.
Al-Shehabi condemned the reliance of Bahraini rulers on foreign powers and said "I have always called the Al Khalifa regime as illegal, and now that they have targeted the highest religious authority in the country and they have detained more than 70 religious scholars in the past few weeks, I think the time has come for them to just pack and go".
The monarchy's decision to suspend Al-Wefaq party and strip Sheikh Isa Qassim, party's spiritual leader, of Bahraini nationality ignited a renewed round of extensive protests leading to sever and deadly clashes with security forces.
Bahraini regime responded with a new round of crackdown on top opposition figures and human activists, detaining public figure including Secretary-General of the Freedoms and Democracy Movement (Haq) Hassan Mushaima', Al-Wefaq Secretary-General Sheikh Ali Salman, Sheikh Mohammad Habib Al-Miqdad, Sheikh Abduljalil Al-Miqdad, Sheikh Abdulhadi Al-Mokhawdar, Abdulhadi Al-Khawaja, Salah Al-Khawaja, Mohammad Jawad Perweez, Mohammad Ali Al Ismail, Sheikh Mirza Al-Mahrous, and scores of other opposition figures and human rights activists.