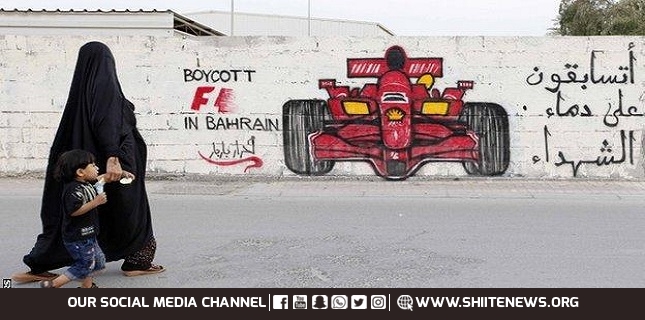 A group of British legislators has written to the organizers of the Formula One (F1), expressing "grave concern" over the role of the Fédération Internationale de l'Automobile (FIA) in "sportswashing the appalling human rights record of Bahrain and Saudi Arabia."
Ahead of the new season of F1, the world's premier motorsport league, starting Sunday in Bahrain, a group of 20 parliamentarians including Jeremy Corbyn, John McDonnell and Layla Moran have called for an independent inquiry into F1's activities in countries with questionable human rights record.
Saudi Arabia and Bahrain will both host Grand Prix this season, despite Riyadh continuing its dreadful crackdown against anti-regime opponents in the country, including the execution of 81 people on a single day in March.
On the other hand, Bahrain continues to imprison pro-democracy campaigners and other voices of dissent at the highest rate for any country in West Asia, with an estimated 1,300 political prisoners lodged in its jails.
The British politicians condemned F1's "refusal to engage with key stakeholders including human rights groups" before it awarded Bahrain the "longest contract in F1 history, breaching F1's own policy".
"Multimillion-dollar profits must not come at the expense of human rights," read the letter addressed to F1 and the FIA.
"You have a duty to ensure your presence has a positive impact, which will not be possible whilst political prisoners remain behind bars in Bahrain. If Lewis Hamilton can speak out, why can't you?" Paul Scriven, a Liberal Democrat, said in a statement.
Scriven said he and his fellow MPs from the UK Parliament have written an "open letter" to the FIA and F1.
"We are asking them to do things to improve the way the sport operates around human rights, they are not extreme or radical things, they are issues that we would expect any sporting organization with any moral leadership at the heart of how motorsports is governed and operates," he said.
Sayed Ahmed Alwadaei, director of the Bahrain Institute for Rights and Democracy (BIRD), echoed the British lawmakers' call, saying the F1 leadership "cannot simply claim that their presence in these countries has a positive impact when evidence demonstrates otherwise."
"F1 continues to profiteer from brutal [Persian] Gulf autocrats, making multi-millions whilst victims pay the price," Alwadaei said.
"When Lewis Hamilton is able to speak out in the face of injustice, he sets a moral standard that F1 management must follow," he pointed out.
Speaking ahead of the Grand Prix on Sunday, Hamilton, the motorsport's most high-profile driver, said, "I couldn't say whether or not I know that it's got worse. I'm not sure it has got better while we've been coming all these years."
"I know for me, I've only in the latter years started to understand more and more of the challenges of the people here in Bahrain, and also then in Saudi, it was my first time there last year but of course, I read about some of the troubles there," he was quoted as saying.
"But more needs to be done, without doubt. Whether or not that will happen, time will tell."
International human rights groups have long voiced concern over the grim human rights situation in Saudi Arabia. The leadership in Riyadh has sentenced rights activists and political opponents to decades in prison for expressing dissent, including tweets critical of the regime.
Since Crown Prince Mohammed bin Salman assumed office in 2017, the kingdom has ramped up arrests of activists, bloggers, intellectuals, and others perceived as political opponents, showing almost zero tolerance for dissent even in the face of international outcry.
Muslim scholars have been executed and women's rights campaigners have been put behind bars and tortured as freedoms of expression, association, and belief continue to be denied to them.
In 2019 alone, Saudi Arabia set a record for the number of executions – sending at least 184 people gallows. In April 2020, Reprieve, a UK-based non-profit organization, in an exhaustive report said the kingdom carried out its 800th execution.
In 2021-22, Riyadh continued the spree of arbitrary arrests, trials, and convictions of peaceful protesters. Dozens of human rights defenders and activists continue to serve long prison sentences for criticizing authorities or advocating political and rights reforms.
Besides the appalling human rights situation at home, Saudi Arabia has also been involved in the devastating Yemen war since March 2015 in collaboration with its Arab allies and with arms and logistics support from the US and other Western states.
The war has left hundreds of thousands of Yemeni civilians dead, displaced millions of others, and spawned the modern world's worst humanitarian crisis.
In Bahrain, large-scale demonstrations have been held regularly since the popular uprising was launched in the Arab country in February 2011.
People in the country demand that the Al Khalifah regime relinquish power and allow a just system representing all Bahrainis to be established. Manama, however, has gone to great lengths to clamp down on any form of dissent.