Bahrain
We strongly condemn the new charges against jailed rights activist: Bahrain Opposition group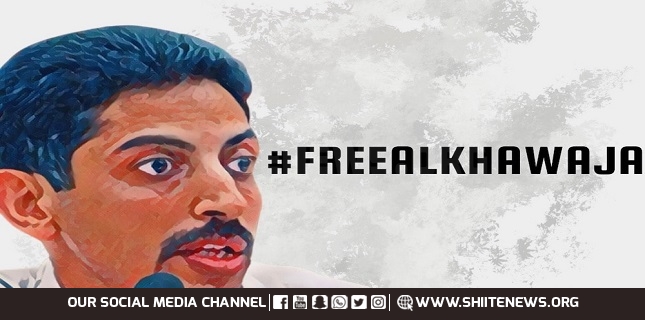 A Bahraini opposition protest movement has censured fresh charges against the country's prominent human rights defender and political activist Abdulhadi al-Khawaja, who is already serving a life sentence, over his protests from prison, demanding his immediate and unconditional release.
"We strongly condemn the verdicts issued by the Criminal Court and the Judiciary of Bahrain on the basis of two separate charges against Abdulhadi al-Khawaja," said a statement by the February 14 Youth Coalition, which takes its name from the date when the popular uprising against the ruling Manama regime roared into life.
It added that the rulings handed down to the 61-year activist are because of his brave, uncompromising and humane stance on supporting human rights in Bahrain.
The February 14 Youth Coalition also said, "The Al Khalifah regime wants to exterminate the opposition leaders of Bahrain by means of such harsh sentences and bitter accusations."
The opposition group then described Khawaja as a legend of steadfastness and tolerance.
Last month, a series of fresh charges were leveled against Khawaja, who has been imprisoned for 12 years and subjected to torture and medical neglect during his detention, which has left him with chronic pain.
Rights groups say they believe the charges are an attempt to intimidate Khawaja and other prisoners who speak up from jail.
Among the new charges brought against him was insulting Israel after he spoke against Bahrain's normalization of diplomatic relations with the occupying regime.
Khawaja, the former president and co-founder of the Bahrain Center for Human Rights (BCHR), was arrested and put on trial on April 9, 2011, as part of a campaign of repression by Bahraini authorities following pro-democracy protests in the Persian Gulf kingdom. He was sentenced on June 22 that year, along with eight other activists, to life imprisonment.
Khawaja has gone on a series of hunger strikes while serving his life sentence, in protest at political conditions in Bahrain.
Demonstrations have been held in Bahrain on a regular basis since the popular uprising began in the Arab country in mid-February 2011.
People demand that the Al Khalifah regime relinquish power and allow a just system representing all Bahrainis to be established.
Manama, however, has gone to great lengths to clamp down on any form of dissent.