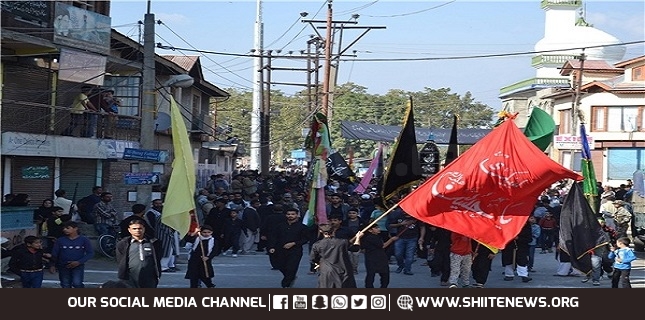 As the Islamic month of Muharram starts, the Muslim-majority region changes its attire. Black banners and flags drape across the region to remind people of what happened in the battle of Karbala more than 1,300 years ago.
The mourning ceremonies of Muharram are marked by Shia Muslims across the world, but Kashmir is altogether different as the rituals are observed by both Shia and Sunni Muslims.
The Muslim-majority Kashmir is known for its deep unity among Shia and Sunni Muslims. Muharram processions have been a part of Kashmir's religious history, but since the onset of the anti-India rebellion in the region in early 1990, the processions have been banned, and the ceremonies were confined to particular pockets.
Amid claims of normalcy in Kashmir, religious organizations in the region have been urging easing a ban on Muharram processions for years, but Kashmir's authorities seem skeptical. This year, they defined routes for the processions. However, many see it as interference in religious affairs.
Young and old are enthusiastically participating in religious activities. Observing the mourning ceremonies during the month of Muharram is a pledge made centuries ago that the followers of Prophet Muhammad and his progeny will not let the world forget the greatest sacrifice for humanity made by Imam Hussein, the grandson of Prophet Muhammad.
Over 1,300 years ago, Imam Hussein and 72 of his companions fought the evil forces of the Umayyad caliph, Yazid I in the Battle of Karbala in southern Iraq. Imam Hussein preferred death to subordinating to the evil plans of the tyrant Yazid.
During the holy month of Muharram, people of Kashmir young and old, men and women get together to listen to speeches delivered by the scholars and religious leaders about the significance of the Battle of Karbala, and to pay homage to its martyrs, keeping the tradition and teachings alive.
Religious scholars in Kashmir believe this is the time for Shia and Sunni Muslims to unite against the enemies of Islam. That's how Muslims can fight against those who are trying to spread Islamophobia for personal interests.