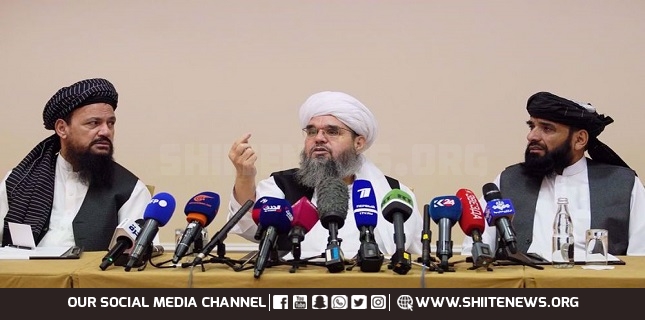 Russia has stressed the necessity of holding talks with the Taliban militant group which has been gaining more territory in Afghanistan.
Kremlin Spokesman Dmitry Peskov said on Friday that Russian President Vladimir Putin is aware of the contacts with Taliban, which is designated by Russia as a terrorist group.
"These contacts are necessary. Considering the tense situation in Afghanistan and the development of the situation on the border between Afghanistan and Tajikistan, these talks are necessary," he told reporters.
Peskov, however, did not say whether Moscow would recognize the Taliban as the government of Afghanistan if the militants took over the entire country.
His remarks come as a Taliban delegation is on a visit to Moscow to address Russian concerns that the militants could infiltrate Central Asia countries after hundreds of Afghan security personnel and refugees continued to flee the country amid the militant group's advances.
On Thursday, the Taliban delegation held a meeting with the Kremlin's envoy for Afghanistan, Zamir Kabulov, after which Russia's foreign ministry said in a statement that it had received assurances borders of Central Asian states would not be violated.
Russian foreign ministry spokeswoman Maria Zakharova on Friday said that the Taliban "currently controls about two-thirds" of the border between Afghanistan and ex-Soviet Tajikistan.
One of the Taliban officials, Shahabuddin Delawar, said at a news conference in Moscow on Friday that the group would take all measures so that the Daesh terrorist group will not operate on Afghan territory, stressing that "our territory will never be used against our neighbors."
He noted that "85% of the territory of Afghanistan has come under the control" of the militant group, including some 250 of the country's 398 districts. The Kabul government, however, disputed the claim.
Taliban vows not to harm Afghan interpreters
The Taliban militant group also vowed not to harm Afghan Interpreters who used to work with the US military after the withdrawal of American troops.
"We guarantee that they can be in Afghanistan and live a normal life; they will not be harmed," Suhail Shaheen, a Taliban spokesman, said at the press conference in Moscow on Friday.
On Thursday, White House Press Secretary Jen Psaki said that the US administration will relocate Afghan interpreters to third countries where they can wait for visas to enter the United States, without specifying where they will be transferred citing "security reasons".
US President Joe Biden has pledged to begin evacuating Afghans who helped US troops during the war as soon as this month.
Biden said the withdrawal of US troops from Afghanistan will conclude on August 31 after nearly 20 years of war, ahead of the original September 11 deadline.
An unusually large US security contingent of 650 troops will remain in the country to provide security for the US embassy in Kabul.