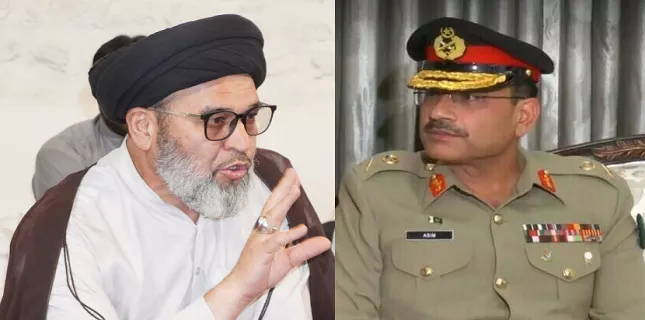 Shiite News: Imam Juma Quetta Allama Syed Hashim Mousavi met Army Chief General Syed Asim Munir.
During the meeting, he informed him about his concerns regarding the Hazara nation and the Shiites living in Quetta despite their patriotism.
Allama Hashim Mousavi said that sending Shia Hazaras from Pakistan to Afghanistan would be like sending them to a slaughterhouse.
According to details, in one of his messages on the social networking website Facebook, Imam Juma Quetta said that he had a meeting with Chief of Army Staff General Syed Asim Munir on November 17, in which learned scholars of all religions were included.
From Quetta, Imam Juma Allama Syed Hashim Mousavi and Shia Conference President Haji Jawad Rafiei were representing the believers.
Allama Syed Hashim Mousavi said that a memorandum was prepared with his suggestion and mutual consultation before the meeting.
In which the services of the believers of Quetta and especially the Hazara nation for Pakistan were mentioned.
Despite the martyrdom of thousands of people in the last twenty years, the patriotism of this nation was also mentioned.
Complaints were also made about the government neglecting the believers of Quetta and Hazara in the recent and previous interim governments and they also demanded that some refugees should not be deported from Pakistan due to the threat to their lives in Afghanistan.
In a message on Facebook, it was said that during the break in the meeting with the Army Chief, Allama Syed Hashim Mousavi and Haji Jawad Rafiei separately briefed the Army Chief, Minister of Religious Affairs and DG ISI General Nadeem Anjum for the services and love of the Hazara nation.
And while mentioning the Pakistani Hazara as a stakeholder in Pakistan and pointing out the services of the late Pakistani hero General Muhammad Musa Hazara, he termed sending some refugees from Pakistan to Afghanistan as equivalent to sending them to a slaughterhouse.
And demanded that they should not be sent to Afghanistan. The said memorandum was also presented to the Army Chief.