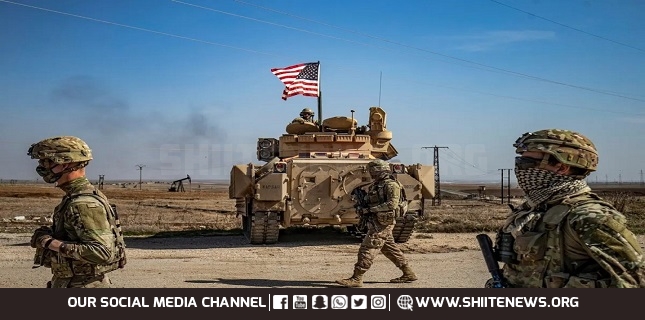 Amid rising anti-US sentiment over Washington's unconditional support for the Israeli onslaught on the Palestinians in the besieged Gaza Strip, unmanned aerial vehicles have separately targeted two major bases in eastern Syria and neighboring Iraq, where US military forces and trainers are stationed.
The Islamic Resistance in Iraq, an umbrella group of anti-terror fighters, in a statement published on its Telegram channel claimed responsibility for the attack on the Rmeilan airfield in Syria's northeastern province of Hasakah on Saturday afternoon.
It said the base was targeted by two drones and the aircraft "directly hit their targets."
There were no immediate reports about the extent of damage at the military facility, and possible casualties.
Earlier, Lebanon's Arabic-language al-Mayadeen television news network, citing informed sources speaking on condition of anonymity, reported that a drone had targeted al-Harir Air Base, situated 45 kilometers (27.9 miles) north of the Erbil International Airport in Iraq's semi-autonomous Kurdistan region.
Abu Alaa al-Walaei, secretary general of the Kata'ib Sayyid al-Shuhada anti-terror resistance group, emphasized on Thursday evening that retaliatory assaults by Iraqi resistance fighters on American occupation forces will continue unabated.
He said the strikes on US military positions in Iraq will stop only when the Israeli strikes on Gaza end, and humanitarian aid convoys reach locals in the besieged Palestinian coastal enclave without any restrictions.
The general secretary of the Kata'ib Sayyid al-Shuhada group also said the Islamic Resistance in Iraq will firmly stand by the side of the Palestinian nation and its resistance fighters.
The US House of Representatives on November 2 passed a standalone $14.3-billion military assistance package for Israel. The legislation, however, is yet to clear the Senate.
Washington, which has backed Tel Aviv's ferocious attacks on Gaza as a means of "self-defense," has also been casting its veto against the United Nations Security Council resolutions that called on the occupying regime to cease its aggression.
US occupation troops have been attacked at least 40 times in Iraq and Syria since October 7, when Israel launched relentless air and ground attacks on the Gaza Strip, including hospitals, residences, and houses of worship, following Palestinian resistance fighters' surprise attack, dubbed Operation al-Aqsa Storm, against the regime.
More than 11,000 Palestinians, including 4,506 children and 3,027 women, have been killed as a result of the savage Israeli bombardment.
So far, 56 American personnel have been injured in retaliatory attacks with traumatic brain injuries or minor injuries, though all have returned to duty, according to the Pentagon.