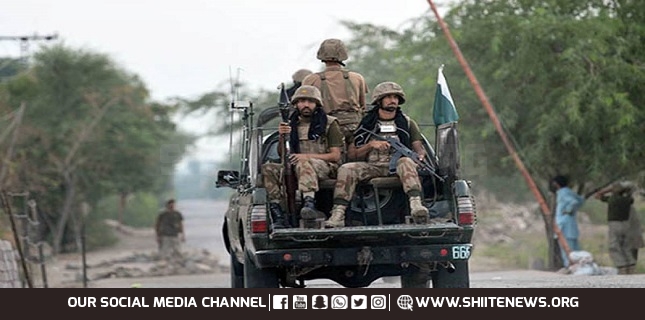 Law enforcement agencies have carried out an intelligence-based operation in Kurram Agency, tracking down and eliminating a terrorist wanted for the killing of a decorated senior intelligence officer and his comrade.
Terrorist Umar Niazi had martyred two Inter-Services Intelligence (ISI) officials—Director Naveed Sadiq Sial and Inspector Nasir Abbas—in a gun attack on January 3 at a roadside restaurant in Pirowal area of Khanewal.
A relatively unknown terrorist group calling itself Lashkar-e-Khorasan had immediately claimed responsibility, but the outlawed Tehreek-e-Taliban Pakistan (TTP) later claimed that the deadly attack was carried out by a "secret squad" of the TTP.
The terrorist, who earlier had tea with the two officials at the restaurant before he shot them, was believed to be an "intelligence source" on the al Qaeda terrorist group and a suspected double agent.
He had escaped the scene of the crime following the gun attack.
But the country's intelligence agencies utilised the latest counter-terrorism technology to track the wanted terrorist day and night, sources said, nabbing and eliminating him before his possible departure to Afghanistan.
Sources said Niazi was detained by law enforcement agencies in an injured condition and was under treatment when he died.
Nightmare for Da'ish
Shaheed Muhammad Naveed Sadiq, a decorated senior intelligence officer, was a "nightmare for Da'ish" who had "singlehandedly" denied the Khorasan enterprise of the Middle Eastern terrorist group a foothold in the province.
The fallen intelligence official, who was the Officer Commanding of ISI's counter-terrorism department for Multan Region, had served the premier intelligence agency for more than 16 years.
"The brave son of the soil had conducted multiple operations against Da'ish and al Qaeda across Punjab," sources told The Express Tribune.
"During the war against terrorism he became a terrorists' nightmare," the sources added. "He had singlehandedly defeated Da'ish, especially in Punjab."
He had successfully traced the residence of a Da'ish deputy commander in Faisalabad, conducting a raid and neutralising the terrorists after a fierce encounter.
In another operation in Gujranwala, Naveed Sadiq bravely fought against suicide terrorists, with his team risking their lives and successfully taking two would-be suicide bombers out of densely populated areas of the city before neutralising them.
"During his posting in Multan, he was the linchpin of operations against Da'ish, al Qaeda, and other terrorist outfits in South Punjab," sources told The Express Tribune.
He was decorated with the Sitara-e-Shujaat, Pakistan's second highest civil award, by President Arif Alvi at a special Investiture Ceremony held at the Presidency in March 2021.
Director General ISI Lt Gen Nadeem Ahmed Anjum, who keeps a low profile, had travelled to Lahore to join other senior military officials and government functionaries to attend the funeral of the martyred intelligence officials.