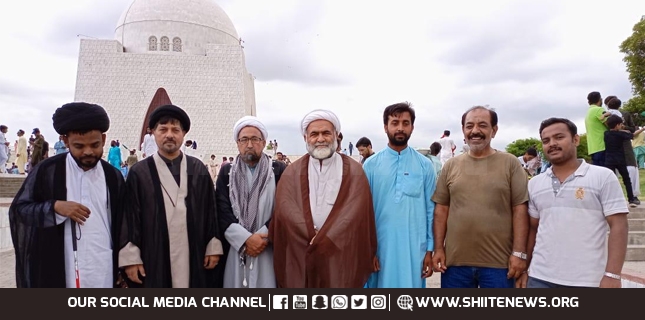 On the occasion of the 75th Independence Day, Majlis Wahdatul Muslimeen (MWM) delegation, headed by President Allama Baqir Abbas Zaidi, along with Ulema and Zakireen, visited the shrine of the founder of Pakistan Quaid-e-Azam Muhammad Ali Jinnah and presented a bouquet of flowers.
Special prayers were also offered for the integrity and development of the beloved homeland. Allama Mukhtar Emami, Allama Ali Anwar Jafari, Maulana Sadiq Jafari, Nasir Hussaini, Zahid Abbas, Qaiser Abbas, Raheel Abbas and others were present on this occasion.
Talking to the media, Allama Baqir Abbas Zaidi said that the concept of free and independent Pakistan was first given by Allama Iqbal, and for the establishment of which Quaid-e-Azam Muhammad Ali Jinnah, (may God bless him and grant him peace), fought tirelessly.
The nation will have to play its part with the same dedication, integrity, and passion. The struggle for Pakistan was not just for a piece of land, but its aim was to establish an Islamic state that was independent in its decisions, whose internal and external decisions are subject to national interests.
For the past seventy-four years, global arrogant powers have been influencing the affairs of Pakistan and our relations with other countries as subject to their will.
The state which considers the dignity of the country and people as a priority does not take into account any external dictation.
He said that Pakistan is our identity and a great blessing given by the Lord. This country is the guarantor of our religious freedom, the protection of our beliefs and the survival of generations.
We must protect it more than our lives and property, we have to become a leaden wall against every enemy who is the enemy of our integrity and survival. He said that Independence Day is a day to renew the pledge and resolve to fight against the enemies of the country.