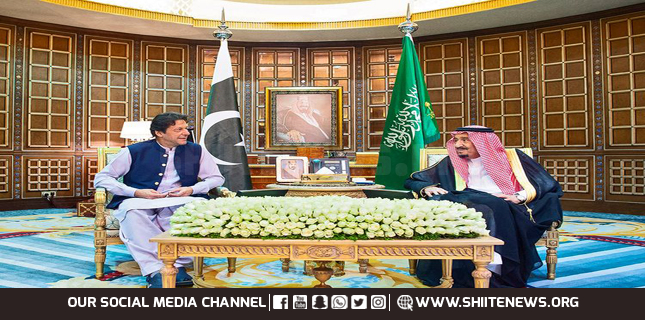 Saudi Arabia reticent on Pakistan efforts for Iran ties. Prime Minister ImranKhan's sub rosa diplomacy has not yet come to fruition as far as Riyadh is concerned.
Saudi Arabia reticent
Pakistan has been trying its level best to de-escalate tension in the region. To attain that goal, PM Khan has sought to persuade US President Donald Trump in Washington D.C. and New York.
Although #POTUS #Trump has termed it Imran Khan's initiative, at least, he said something on the efforts.
But, Kingdom of Saudi Arabia has neither honoured Pakistan Prime Minister for his shuttle diplomacy nor made any comment.
Iran remains grateful to Pakistan
However, Iran made public its reaction to Pakistan efforts.
Notably, Supreme Leader of Islamic Revolution Ayatollah Khamenei lauded Pakistan's sincere efforts. He also made public how regional peace can be restored.
Comparatively, Iran Foreign Minister Javad Zarif publicly remained grateful to Prime Minister of Pakistan. He tweeted: "Grateful to PM @ImranKhanPTI for his efforts toward peace in the #PersianGulf…. Reiterating #HOPE (Hormuz Peace Endeavour) I again invite colleagues in the leaderships of other regional states to join Iran in forging a blueprint for peace, security, stability & prosperity.
Saudi-led GCC tilts to India
Unfortunately, Saudi monarhcy has not made any gesture to welcome him.
Not surprisingly that Foreign Minister Shah Mehmood Qureshi declared PM Khan's as successful visit. Ironically, he appeared to have shown him mor loyal than King.
Foreign Minister Shah Mehmood Qureshi
It remains quite clear that Saudi-led GCC and OIC failed to help Pakisan on Kashmir issue. Instead, the GCC-3 honoured Indian Prime Minister Narendra Modi to humiliate and affront Pakistan.
Even then, FM Qureshi defended the GCC-3 instead of slamming their unbalanced and anti-Muslims foreign policy.
Saudis need to recgonise Pakistan's efforts
Factually, Saudi Arabia has lost its reputation as leader of Islamic world. The custodian of two most sacred cities of Islam housing holy shrines failed to act responsibly.
Most importantly, its uncalled for war on Yemen cost Saudi monarchy dearly. Iran has proposed 4-point solution to end that war. But, Saudi-led military coalition has not yet responded to that proposal positively.
Meanwhile, Prime Minister Imran Khan has come to rescue them and get them out of this quagmire. Hence, Saudis should not miss this golden chance and honour his sincere efforts by lauding his role.
Ball in the court of Saudi Arabia
Iran leadership made clear that they remain willing to talk to regional states for peace. They shared it with PM Khan that regional states toe the line of US against Iran.
Now, ball is in the court of Saudi monarchy. Islamic Ummah keeps waiting for end to intra-Muslims wars and conflicts. Please break your silence and give good news to Muslims and Arabs.
Please announce end to war on Yemen. Let Yemenis decide their future. Facilitate peace. Please sit with Iran for talks on regional security. Don't trust US and Israel. History guides you so!
Mohammad Ammar / Shiite News Exclusive