Yemen
UN says Saudi airstrikes killed 42 civilians in 1 week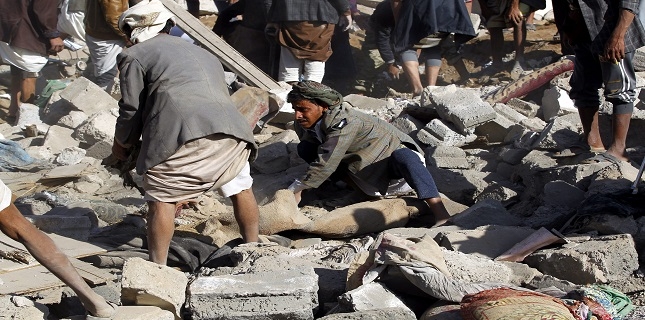 Airstrikes by a coalition under the leadership of the regime in Riyadh against civilian targets across Yemen have killed 42 more civilians, including a number of children, over the past week, the United Nations human rights office says.
"In the week from August 17 to August 24, 58 civilians have been killed, including 42 by the Saudi-led coalition," said Liz Throssell, the spokeswoman for the UN High Commissioner for Human Rights (OHCHR), in a press briefing in Geneva on Friday.
The UN figure was released following a series of intensified Saudi airstrikes over the past two days, including an attack on a hotel in Sana'a Governorate that killed 33 people and a separate strike on a residential home in the capital, Sana'a, which left six more people dead.
According to an OHCHR statement, "a woman and two children were killed and two women and two children were injured when an airstrike by the Saudi-led coalition hit a house in Talan village" in Sana'a Governorate on Tuesday.
It added, "In all these cases, in which civilians were killed and injured, witnesses said that there had been no warnings that an attack was imminent."
Saudi warplanes pounded a neighborhood in Sana'a on Friday, killing 14 civilians, including women and children.
The airstrike struck residential buildings in the Faj Attan neighborhood of the Yemeni capital, the local al-Masirah television network reported, adding that the fatalities included two women and six children.
UN Secretary-General Antonio Guterres' spokesman Stephane Dujarric reacted to the incident, saying, "What is clear is that any attack on civilians is unacceptable. This is a message we have often repeated, and we will continue to repeat."
UN to blame for Yemen carnage: Amnesty International
Meanwhile, Amnesty International condemned the deadly Saudi attack on the residential building in the Yemeni capital, saying the UN was to blame for Riyadh's brazen disregard for international humanitarian law.
"In the aftermath of this night of horror there are serious questions for UN leaders, who last year made the shameful decision to remove the coalition from the list of violators of children's rights in conflict", said Amnesty's Middle East Research Director Lynn Maalouf.
"We are calling on the UN to look at the evidence – the schools and hospitals that lie in ruins, the hundreds of young lives lost to reckless airstrikes in the last year – and review this decision for the upcoming Children in Armed Conflict report. There is an urgent need to put Saudi Arabia under scrutiny for the raft of crimes under international law and other human rights violations its forces have committed in Yemen," Maalouf added.
Saudi Arabia and its allies began their military aggression against Yemen in March 2015 to restore its former Riyadh-allied authorities. Over two years on, more than 12,000 people have perished and the good part of the country's infrastructure has been blown to smithereens.
The Houthi Ansarullah movement has been running state affairs since 2014, when then President Abd Rabbuh Mansur Hadi resigned and fled to Riyadh. Backed by army troops and popular forces, the movement has also been defending the nation against the Saudi aggression.
The Saudi-led coalition has been under fire for failing to protect civilians in Yemen. Activists and international rights groups have urged Western states, particularly the United States and Britain, to halt their military support for the alliance.