Yemen
20 killed as Saudi jets launch new airstrikes in Yemen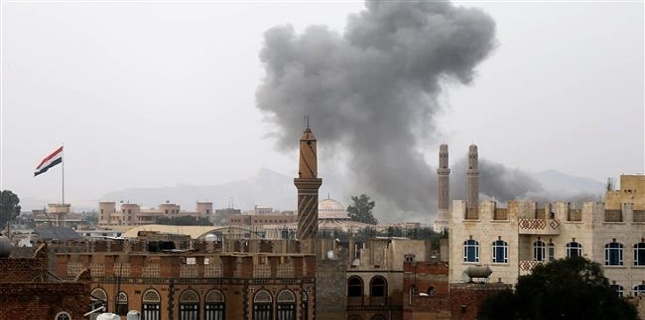 At least 20 people have lost their lives and many others sustained injuries in a number of Saudi airstrikes against residential neighborhoods across Yemen.
On Wednesday morning, Saudi military aircraft pounded al-Rawdah Village and the Nihm district in the western-central Yemeni province of Sana'a in addition to an area close to a military academy in the capital, Sana'a, leaving four people dead and scores of others injured, Yemen's al-Masirah television network reported.
Sixteen people, mostly women and children, also lost their lives and a number of others were wounded when Saudi warplanes pounded houses in the Sahan district of Yemen's northwestern mountainous province of Sa'ada.
Later in the day, Saudi jets launched an aerial attack against a gas station in the northwestern city of Hajjah, located 127 kilometers (78 miles) northwest of Sana'a. There were no immediate reports of casualties and the extent of damage caused. The Mustaba district in Hajjah Province was also hit, though no reports of casualties were available.
Separately, seven people were injured in an airstrike against a courthouse in Yemen's northwestern province of Amran.
The developments came a day after Saudi aircraft hit a parking lot in the Mafraq al-Shara'b district of the southwestern Yemeni province of Ta'izz, killing 16 civilians and injuring 10 others.
Moreover, Yemeni soldiers, backed by fighters from Popular Committees, on Tuesday launched a barrage of rockets at two camps belonging to militiamen loyal to Abd Rabbuh Mansur Hadi, who has resigned as Yemen's president, in the Thaabat area and al-Wazi'iyah district of Ta'izz Province, leaving an unspecified number of pro-Riyadh gunmen dead and injured.
Saudi Arabia has pounded Yemen almost daily since March 2015. The United Nations (UN) announced on Tuesday that at least 10,000 people have been killed in the war so far.
Saudi Arabia launched the war to put Hadi, who is a Saudi ally, back in power.
The Houthi fighters and allied army units have been fighting back the Saudi invaders and their mercenaries.