Yemen
Yemeni forces loyal of Ansarullah down Saudi warplane in Sada'a Province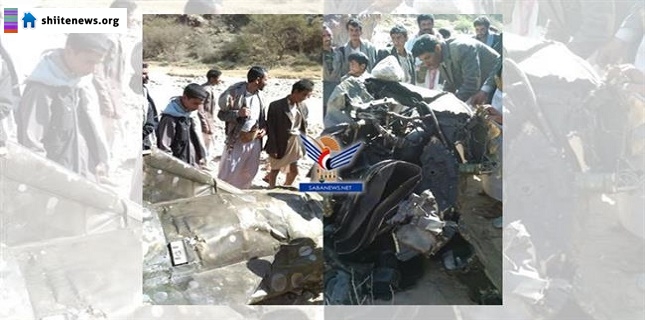 Yemeni army forces, backed by allied popular committees loyal to the Houthi Ansarullah movement, have shot down a Saudi warplane in the northern province of Sada'a.
Yemen's official Saba news agency said that the Saudi fighter jet was shot down and subsequently crashed in the Ghamar district of the province on Thursday.
The Yemeni forces have launched an operation to spot debris from the aircraft and shed light on the fate of the crew.
The fighter jet had reportedly conducted a number of airstrikes against Yemeni forces in the region.
Saudi regime forces have yet not commented on the incident.
Yemeni forces have shot down several Saudi warplanes and drones over the past few months in various parts of the country.
Last Friday, Yemeni forces shot down a Saudi reconnaissance drone in Sa'ada Province. Yemeni forces targeted the remote-controlled unmanned aerial vehicle (UAV) as it was flying over al-Dhaher district in the arid and mountainous province, which lies 240 kilometers (150 miles) north of the capital, Sana'a.
On October 9, Yemeni soldiers supported by popular committees' fighters downed a Saudi spy drone in the Kitaf district of Sa'ada Province. The small UAV was later identified as a long-endurance Boeing Insitu ScanEagle.
In late May, Yemeni air defense forces took down a Saudi F-16 fighter jet in the Bayt Khayran area of the district of Bani Harith in the northern part of Sana'a.
On May 11 also, Ansarullah fighters brought down a Moroccan fighter jet violating the country's airspace in the Noshour Valley of Sa'ada Province.
Yemeni forces attack Saudi military bases
The latest incident comes hours after Yemenis forces fired a Scud missile from the capital Sana'a at the King Khalid airbase in the region of Asir in southwestern Saudi Arabia. They say the ballistic missile hit the target.
This is the second time the airbase in the Saudi city of Khamis Mushait comes under Scud missile fire.
Ansarullah forces have also launched a barrage of rockets into military sites in the border region of Najran inside Saudi Arabia.
Yemeni fighters have beefed up their retaliatory strikes against military camps inside of Saudi Arabia over the past weeks. Dozens of Saudi forces have been killed in the attacks.
Yemen has been under military strikes on a daily basis since Saudi forces launched their military aggression against their southern neighbor on March 26, in a bid to undermine the Houthi Ansarullah movement and restore power to the fugitive former president, Abd Rabbuh Mansour Hadi, a staunch ally of Riyadh.