World
Over 235 Killed as Wahhabi Extremists Attack Sufi Mosque in Egypt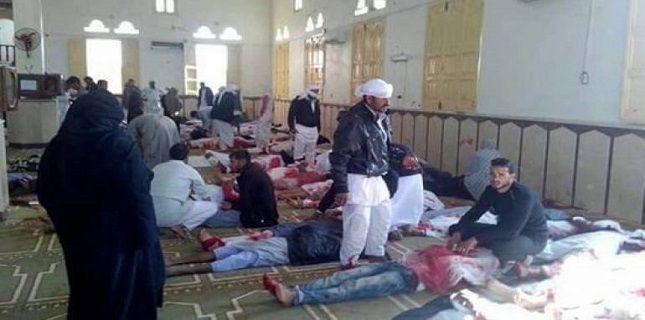 At least 235 worshippers have been killed by Wahhabi Takfiri terrorists who attacked a Sufi mosque in Egypt's North Sinai during weekly Friday prayers.
In a statement, Egypt's general prosecutor's office announced that at least 109 people were also injured in the attack that targeted Al Rawdah mosque in Bir Al-Abed, 80 km west of al-Arish city, North Sinai region. The attack is one of the deadliest targeting civilians in the insurgency-hit North African country in recent years.
According to eyewitnesses, gunmen fired heavily on worshippers after improvised explosive devices were detonated at the mosque.
Health ministry sources in the governorate said 30 ambulances were deployed to the scene to transport the injured to Arish Bir Al-Abed and Arish General hospitals.
In an official statement, Egyptian general prosecutor Nabil Sadek ordered that Ismailia and high state security prosecutors be deployed to the scene to carry out needed investigations.
President Abdel Fattah al-Sisi, a former armed forces commander, convened an emergency meeting with his defense and interior ministers and intelligence chief soon after the attack. The government also declared three days of mourning.
The insurgency has mostly targeted security forces, with attacks on military and police checkpoints commonplace.
The Sinai Peninsula has been under a state of emergency since October 2014, after a deadly terrorist attack left 33 Egyptian soldiers dead.
Over the past few years, ISIS-linked Takfiri terrorists have been carrying out anti-government activities and fatal attacks, taking advantage of the turmoil in Egypt that erupted after the country's first democratically-elected president, Mohamed Morsi, was ousted in a military coup in July 2013.
The mosque was targeted since it is frequented by Sunni Sufis who the Wahhabi Takfiri terrorists regard as apostates because they revere saints and shrines, which for the Saudi-backed Wahhabi ideology is tantamount to idolatry.
The Al-Rawda Mosque is known for being the birthplace of Sheikh Eid al-Jariri, a Sufi cleric considered the founder of Sufism in the Sinai Peninsula.