World
Trump, Theresa May 'Agree to Postpone' State Visit to UK after Protests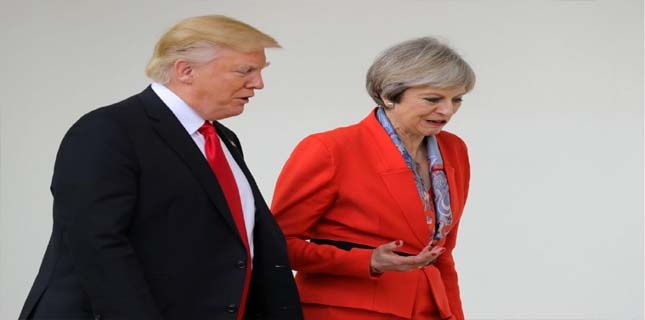 US president Donald Trump's trip to the UK will be postponed so that he can avoid protests.
Senior politicians and Theresa May hope that people will have forgotten about the US President's controversial policies by the time he arrives.
Trump was invited to the UK by May in January. But the move was immediately met by protests by both the public and Parliament, and the President is said to be concerned that he will be snubbed or embarrassed if he has his state visit in June as planned.
Instead, it will be moved to October, the Independent reported.
By that time, protests over Trump's Muslim ban and other controversial policies may have died down and the trip will be less embarrassing, officials hope.
Moving the trip to October also means that Trump could meet The Queen at Balmoral, reportedly a keen hope of the President. The Queen's summer schedule is already packed, but she may be able to find space in the autumn.
The schedule – which is currently planned to run from 5 October to 8 October, or Thursday to Sunday – means that the trip would fall just after the Tory party conference. It would also mean that MPs were still away from Parliament on recess, minimizing the chance of an embarrassing snub by MPs.
Trump's election and resulting policies have received widespread criticism from politicians, who have threatened to try and ban him from parliament entirely. The decision to invite the President to the UK has also been greeted by some of the largest street protests in recent years, and activists have promised to protest any trip that Trump does eventually make.
Much of the controversy has surrounded Trump's Muslim ban, which kept people from seven predominantly Muslim countries from entering the US but was struck down by a judge. The Trump administration is in the process of re-writing that executive order, with some tweaks.