World
How Nigerian Army Burn Alive Islamic Movement Members Inside Zakzaky's House?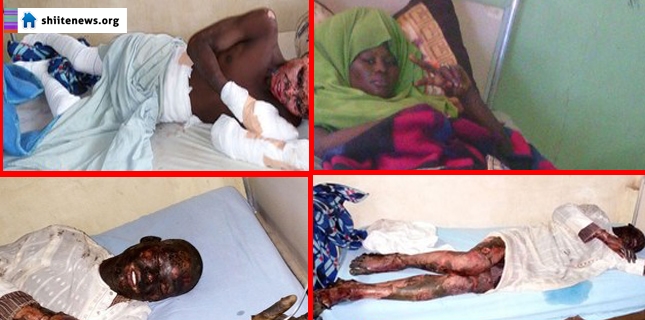 As it is known to everybody, one of the heinous crimes committed against members of the Islamic Movement in Nigeria under the leadership of Sheikh Ibrahim Zakzaky is setting his house ablaze until the people inside the house were burnt beyond recognition. While those who managed to escape sustained various degrees of injuries.
They are currently on admittance at various hospitals.
We have taken the pictures to tell the world what the Nigerian soldiers did to innocent people on 12th to 13th December, 2015.
Some of the burnt civilians include fragile women, children and elderly people.
It is a well known fact that different sorts of bombs were used to carry out the atrocities the same weapons they are using to prosecute war against Boko Haram militants. It is against this backdrop we call on the world powers, NGOs and Human rights groups to hold the Nigerian government responsible for the killings.
On Dec. 12, 2015 the Nigerian military killed more than an estimated 1,000 members of the Islamic Movement of Nigeria and attacked their leader Sheikh Ibrahim Zakzaky. The Nigerian army claimed the raid was in response to Islamic Movement members attacking the convoy of the Chief of Army staff, Tukur Buratai. Many were killed after soldiers opened fire on members of the group, who they said put up barricades and blocked the road to be used by the Army chief. The group said Zakzaky's wife, Zeenat, was killed, but the military said she and Zakzaky were in protective custody. The group released the following statement
Considering the gross violation of fundamental human rights and extra-judicial killings perpetrated by the Nigerian Army, the Islamic Movement hereby condemns these unjustifiable acts…We state categorically that the claim by the Army that Members of the Movement attempted to assassinate the Chief of Army Staff [COAS] was a blatant lie as the army came back to launch their attack more than an hour after the COAS had passed…Clearly, the Nigerian government through its military is now on rampage, in an all out war with the Islamic movement, its members and structures…Therefore, with all pointers at the government as the contractor of the killings, we hereby call on well meaning Nigerians and the international community to intervene and seek redress for the victims and their family members as many innocent people have unjustifiably been killed and many others severely injured.
After the attack, the whereabouts of Sheikh Zakzaky is unknown. Three of Mr. Zakzaky's sons had been killed in a
similar attack by the Nigerian Army in July 2014. The Islamic Movement of Nigeria is a non-violent, Islamic group (including Shias, Sunnis, Christians) and has a history of being attacked by both Boko Haram and the Nigerian military.