World
Shiites Massacres in Nigeria Continuous, Who is Sheikh Zakzaky?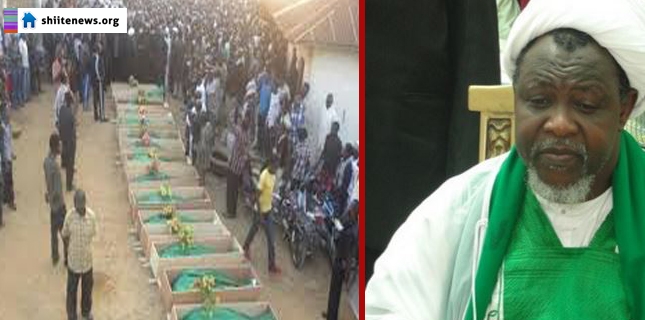 The civilized world has been shocked by the recent massacre in the Nigerian city of Zaria, where a peaceful gathering of Shiites Muslims for celebrating birthday anniversary of Prophet Mohammad (PBUH) was deliberately targeted by the military, which is believed to take orders from the US, the Zionist entity, and Arab reactionary regimes, such as Saudi Arabia.
Estimate of the death toll differs, from 800 men, women and children shot dead, to 2,000, according to IRIB News, Investigative journalist Catherine Shakdam presents an eyewitness account of the massacre of Nigeria Shiites Muslims, titled "A Martyr's Testimony",
Saudi Wahhabism, US and Israel fear the rise of the Shiites in Africa, specially Shiites and Sheikh Ibraheem Zakzaky leader of the Islamic Movement in Nigeria in the city of Zaria have special ceremony for religious days like Muharram, Remembering Imam Hussein Martyrdom, Arbaeen, Quds day and Maulud – birthday celebration of Prophet Muhammad, PBUH – have an overcrowded ceremony and large number of people presenting in Hussainiyyah Baqeeyatullah.
At least Dozens people were killed Tuesday protest and aftermath of clashes between police and the supporters of a Shiites Muslims in northern Nigeria which rallied against arrest of Sheikh Zakzaky.
On December 12, Nigerian soldiers raided the home of Sheikh Zakzaky, in Zaria, a Shiite stronghold.What started as a targeted attack quickly devolved into a carnage as soldiers opened fire on civilians.
On Sunday Haroon Bainavi, a Nigerian political activist confirmed that Sheikh Zakzaky was shot and wounded during the attacks. "We don't know where he is or where they took him," he told local press.
Activists and local residents also confirmed that a large number of soldiers torched and destroyed several parts of Al-Zakzaky's house before arresting him this Sunday.
But the military did not have its fill of blood just yet as a mourning procession became target practice for over-zealous soldiers: 30 unarmed civilians were killed and countless more were injured.
Earlier in the day, tens of thousands of Islamic Movement supporters protested in support of leader Ibrahim Zakzaky, who was arrested on Sunday, Muslimnews reports.
Dozens of Shiites Muslims have been killed and community centers demolished since Saturday, when Shiites barricaded the road when crowds of the people preparing ceremony and large number of people presenting in Hussainiyyah Baqeeyatullah while convoy of army's chief of staff passing the road, in a move the military later claimed was an attempt to assassinate Lt. Gen. Tukur Buratai.
Last year, at least 34 members of the Islamic Movement, including three of Zakzaky's sons, were allegedly killed by Nigerian troops in Zaria amid protests. An army report into the incident is yet to be made public.
Earlier this month, dozens of people died in a suicide attack on a Shiites procession near the northwestern city of Kano. Shiites leaders later claimed the attack had been masterminded by the army.
Nigeria's Shia population is thought to number around 4 million in a country of 170 million and is concentrated in the northwestern states of Kaduna, Kano and Sokoto.
Nigeria's foremost Shiite Muslim cleric is currently being held in custody after violence broke out between his followers and the Nigerian military after army crack doen on Shiites in this country.
Sheikh Ibrahim Zakzaky, leader of the Islamic Movement in Nigeria (IMN), was detained after deadly clashes between Nigerian soldiers and his followers in the city of Zaria, Kaduna state, in northern Nigeria.
The clashes and al-Zakzaky's arrest have sparked protests across Nigeria by Shiite Muslims, a significant minority in the Sunni-majority country. They also appear to have stoked tensions between the Nigerian state and a movement (IMN) which claims to have been targeted before and has the backing of a powerful Shiite ally.
Who is Sheikh Ibrahim Zakzaky?
Hailing from the Nigerian Shiite holy town of Zaria, Zakzaky began propagating Shiite Islam around 1979, at the time of the Iranian revolution—which saw Iran's monarchy overthrown and replaced with an Islamic republic under Ayatollah Khomeini., ABNA reports.
Zakzaky believed that the establishment of a republic along similar religious lines in Nigeria would be feasible. He has been detained several times due to accusations of civil disobedience under military regimes in Nigeria during the 1980s and 1990s and is still viewed with suspicion by Nigerian authorities.
Zakzaky is the spiritual leader of the IMN, Nigeria's most prominent Shiite Muslim movement. Of Nigeria's 180 million population, 50 percent is Muslim, a small minority of which belong to Shiite Islam.
According to Nnamdi Obasi, Senior Analyst on Nigeria at the International Crisis Group (ICG), the IMN's goals are twofold: "to ensure more stringent application of Islamic legal and administrative systems…then ultimately to create an Islamic state in Nigeria."
What is the status of Shiite Muslims in Nigeria?
Shiite Muslims are generally well-integrated in Nigeria and do not suffer direct discrimination or persecution, according to Bat-el Ohayon, founder of sub-Sahara African consultancy Afrique Consulting Group.
Zakzaky's followers, however, have a strained relationship with the Nigerian security apparatus, says Ohayon. "It appears that there is specific and isolated conflict with the community in Zaria, particularly with Zakzaky," says Ohayon.
The clashes at a July 2014 Shiite religious procession in Zaria are evidence of this conflict. At the pro-Palestinian rally, known as a Quds Day procession, 34 protesters were reportedly killed by Nigerian soldiers, including three of Zakzaky's sons.
At the time, the Nigerian Army claimed that it was acting in self-defence. More recently, Shiite followers of Zakzaky were targeted in a suicide bombing that killed at least 21 people during a procession from Kano to Zaria.
Despite reports that the militant group Boko Haram claimed responsibility for the attack, Zakzaky claimed the attack was not the work of Boko Haram and suggested that the bombing was orchestrated by the army.
The Shiite cleric has no reason to defend Boko Haram, which espouses a fundamentalist interpretation of Sunni Islam and views Shiite Muslims as infidels worthy of death.
Why has Sheikh Zakzaky been arrested?
According to the IMN, unarmed worshippers were attacked by the army while conducting a peaceful procession.
Clashes took place at three different locations across Zaria, including Zakzaky's house and the group's main mosque, according to the Islamic Human Rights Commission, which also reported that Zakzaky's wife was in hospital after earlier reports stated that she had been killed.