World
US offers $5 million reward for ISIL 'gatekeeper'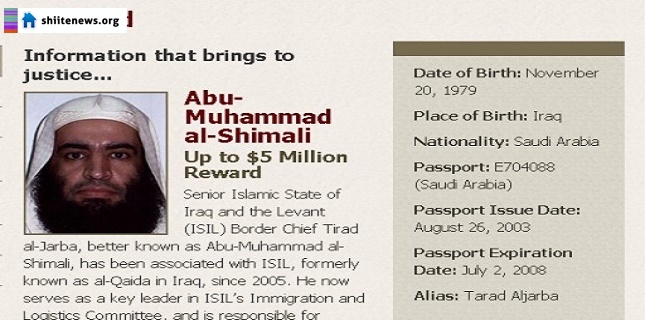 A $5million bounty has been placed on the head of an ISIL 'gatekeeper' who helped six Paris suicide bombers travel from Syria to France to carry out their deadly mission.
An Isil "gatekeeper" who may have helped six of the Paris suicide bombers to travel to Syria and back for training has had a $5 million bounty placed on his head by the US.
Tarad Mohammad al-Jarba, who uses the name Abu Muhammad al-Shimali, is the man in charge of getting Isil fighters across Syria's border with Turkey, and plays a key role in all Isil operations outside Iraq and Syria.
French investigators believe six of the seven Islamic State of Iraq and the Levant jihadis who were killed in the November 13 attacks had been to training camps in Syria, and that three of them had used refugee routes across Europe to get back to France.
Al-Jarba, 35, is described as a key member of Isil's immigration and logistics committee. He arranges for Isil recruits to cross into Syria via the Turkish border town of Gaziantep, and to get back into Europe once they are ready to carry out terrorist attacks.
On September 29 al-Jarba was placed on the UN Security Sanctions List, imposing a travel ban, asset freeze and arms embargo on him. His details have also been circulated by Interpol.
But it is his suspected role in the Paris attacks that has put him in the international spotlight for the first time.
According to reports in France, at least three of the Paris terrorists used migrant routes across Europe. At least one was using a false Syrian passport, in the name of Ahmad al Mohammad, which is likely to have been supplied by his Isil handlers.
According to Le Monde, although the passport bore a "false photo", it was "registered at each stage of its holder's journey along the Balkans' migrant route" – starting in Greece – leading Britain and Germany, among others to contact France to "anticipate any threat of this nature on their own soil".
Abdelhamid Abaaoud, the mastermind of the attacks who was killed in a police raid on Saint-Denis on Wednesday, is also known to have travelled between Belgium, France and Syria on several occasions and was thought to be in Syria until fresh intelligence suggested he was back in France.
Police also suspect Samy Amimour, one of the Bataclan killers and subject to an international arrest warrant, returned from Syria to Belgium "in all likelihood via Greece", according to a source close to the investigation.
Salah Abdeslam – believed to be among the gunmen and under an international arrest warrant – entered Europe from Syria via Greece "with his own passport".
Al-Jarba was born in Iraq but is a naturalised citizen of Saudi Arabia. He is said to have joined al-Qaeda in 2005, later switching to Isil. Since mid-2014 he has been regarded by the US as Isil's "leader for operations outside Syria and Iraq", meaning he may have played a key role in planning other attacks in Europe.