World
US stirring anarchy in South China Sea: Beijing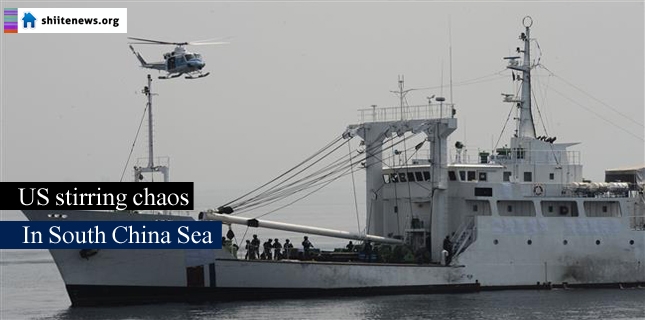 China has accused the United States of threatening to create "chaos" in the South China Sea, and urged Washington to "refrain from all the provocative words and deeds."
"If the major powerhouse of world economic growth is thrown into chaos, will that serve the interests of the American side?" China's foreign ministry spokeswoman Hua Chunying said on Thursday.
Hua suggested that the United States was inciting its allies in the Asia Pacific region to challenge China's territorial sovereignty in the disputed waterways.
"A few countries keep stirring up troubles in the South China Sea for (their) own selfish gains and provoking China's territorial sovereignty and maritime rights and interests, while there are some other people who incite them to do so," she added.
US officials accuse Beijing of undergoing a massive "land reclamation" program and staking territorial claims on artificial islands it is building in the South China Sea.
Washington does not recognize China's sovereignty in the disputed areas and is weighing sending surveillance aircraft and warships to test Beijing's territorial claims.
"There should be no mistake, the United States will fly, sail and operate wherever international law allows, as we do all around the world," US Defense Secretary Ash Carter said Wednesday during a ceremony at US Pacific Command in Hawaii.
The Pentagon chief said China's construction work in the South China Sea could further militarize the region. "We also oppose any further militarization of disputed features."
The latest war of words came a week after a Chinese navy dispatcher reportedly made eight demands that a US surveillance aircraft leave the airspace over the artificial islands.
A US Air Force P8-A Poseidon aircraft defied the warnings last Wednesday and passed over the Fiery Cross Reef, where China is reportedly building an airfield and other installations.
A Chinese state-owned newspaper has warned that "a US-China war is inevitable in the South China Sea," unless Washington stops demanding Beijing halt its construction projects there.
"The intensity of the conflict will be higher than what people usually think of as 'friction'," The Global Times, an influential newspaper owned by the ruling Communist Party's official newspaper The People's Daily, said in an editorial Monday.
Beijing says it is determined to safeguard its sovereignty and territorial integrity in the South China Sea.
China's territorial claims in the region overlap with those of Brunei, Malaysia, Vietnam and Taiwan, and more specifically the Philippines.