World
Shiite Disclosed Plot to Assassinate Sheikh Zakzaky: Nigeria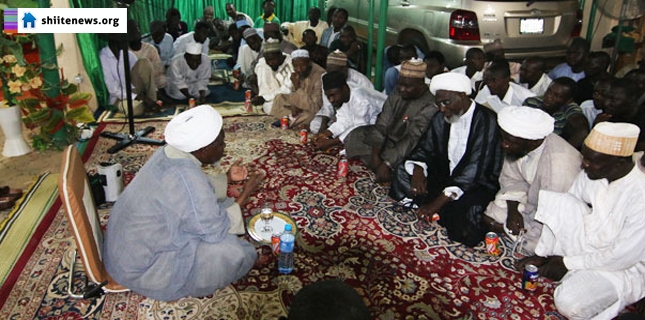 The Shiite group in Nigeria said it has uncovered a grand plot to arrest and kill its leader, Ibraheem El-Zakzaky.
The spokesperson of the movement, Ibrahim Usman, disclosed this in a press statement made available to the media on Tuesday in Kaduna.
"The uncovered plot was in stages, with the first being to arrest the Sheik as he arrives Murtala Muhammed International Airport in Lagos or assassinate him if the arrest failed," Mr. Usman said. "Information reaching us revealed that Sheik Zakzaky will be arrested and be charged for impersonation, that he represented Nigeria at an international conference in Iran, while he was not a government official.
"The second stage of the plan was to implicate Sheik Zakzaky for allegedly importing arms into the country. To this end, a green Italian or French airline laden with arms with number 179 will be stationed at the Lagos airport to make false allegation that the Sheik alighted in the same aircraft that brought the arms.
"If the above plan failed the next step was to cause chaos in the airport, which amidst the pandemonium will allow for the shooting of Sheik Zakzaky as he lands in the airport.
"The final stage of the plan was to lay ambush on Sheik Zakzaky's convoy and kill him as he heads home either from Lagos to Zaria, Abuja to Zaria or Kano to Zaria."
The Leader of the Shiite Islamic Movement in Nigeria sheikh Ibraheem Zazkaky has returned home safely on Tuesday after visiting Iraq, and Iran where he was honoured by a foundation as a father of "three martyrs" during the 2014 Quds massacre by the Nigerian military in Zaria, Nigeria.
Meanwhile a member of the Islamic movement in Kano, Muhammad Turi, has cautioned the government of the dire consequences of the planned action.
Reacting to the plan in a press release, Mr. Turi said the plot was a conspiracy masterminded by the so-called superpower countries, whose interests the Nigerian government is desperately working to satisfy.
"None but them will benefit from the action," Mr. Turi said. "It is indeed an ill wind that will blow nobody any good."
He pointed out that the negative propaganda and assassination attempts on Mr. Zakzaky will hold no water, as the cleric has been widely acclaimed as a genuine embodiment of peaceful co-existence, not only among Muslims but also among people from different religious background.
Sheikh Zakzaky returns safely
The Leader of the Islamic Movement in Nigeria sheikh Ibraheem Zazkaky has returned home safely on Tuesday the 3rd of March 2015. Upon his return at his Gyallesu Residence, in Zaria just close to the time of Magrib prayer he was recieved by some Muslim brothers afterwhich he led the sunset prayers.
After the prayers and dinner he delivered a short speech to the people present. Below are the pictures taken in his residence after he returned.