Saudi Arab
Saudi Wahhabis Attacked on Shia Protesters,Two Martyred, 4 Wounded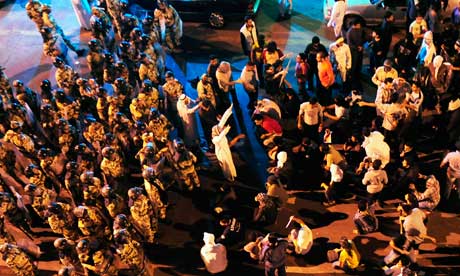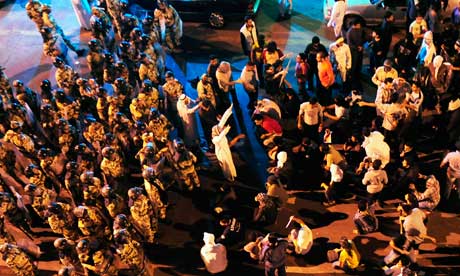 Saudi Wahhabi forces have used stun grenades and rubber bullets to disperse the hundreds peaceful Shia protesters demanding release of prisoners in Qatif, wounded more than four demonstrators and it is said that two martyred.According to eyewitnesses more than 400 peaceful protesters raised the Saudi flags and then police began shooting towards the  demonstrators, wounded at least four demonstrators and two person martyred.
In response to firing demonstrators chanted "peaceful peaceful ..".
Witnesses said that hundreds of protesters, including women holding Roses in their hands, took to the streets on Thursday. As the rally was about to finish, police opened fire on them, injuring at least four of them, all Shias. They were later taken to Qatif general hospital, witnesses said.
There were no confirmed information on whether the bullets which used against demonstrators is a metal or rubber bullets.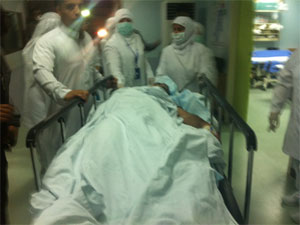 Two protesters received hospital treatment for gunshot wounds. One was wounded in the hand, the other in the leg. They were not allowed to receive any visitors.
A witness says that police used metal bullets and batons against the peaceful protesters.Witnesses told that demonstrators continued to march in spite of casualties and amid heavy gunfire from the security forces.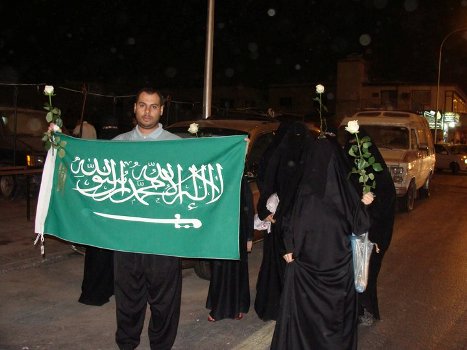 Protesters called on authorities to release nine "forgotten" detainees suspected of involvement in attacks against a US military installation in Khobar in 1996, which killed 19. The nine have never been charged or tried during their more than 16 years in detention.
Despite a warning last Wednesday by Saudi Foreign Minister Prince Saud al-Faisal threatening strong action against activists protesting in the streets, people are back in the streets of the oil-producing Eastern province of Qatif.
More than 32,000 people have backed a Facebook call to hold two demonstrations in the country on March 11 and March 20.The Saudi regime has increased security in the city and has stepped up its crackdown on any dissent ahead of the planned opposition protests on Friday.
On March 9 in Qatif, a town in the Eastern Province of Saudi Arabia, Hundreds of Shia peaceful protesters poured into the streets, demanded the King Abdullah for freedom and release of nine "forgotten" detainees.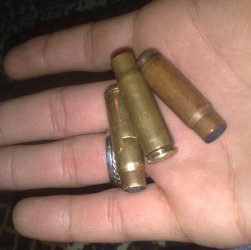 Saudi Wahhabi authorities detained the nine who have never been charged or tried during their more than 16 years in detention.
According to eyewitnesses, more than 700 young men marched peacefully on the King Abdul Aziz Street in the heart of the city before it turns around internal streets in the neighborhood.
The Wednesday protests came despite a warning last week by senior Wahhabi clerics in the kingdom who censured opposition demonstrations as "un-Islamic."
Demonstrators raised slogans during the march and called unity between Sunnis and Shiites.
A resident in Qatif who watched the march, Abdulwahab al-Oraid, said it was not clear why the police opened fire at what appeared to be a peaceful demonstration that started with 100 people and later grew to about 300.
"There is a fear of Friday's protests," Mr. Oraid said. "We think this is a message: 'Don't protest in any Shiite areas on Friday.' "
Witnesses were unclear whether the police fired rubber bullets intended for crowd control or other kinds of ammunition.
Link:
Saudi Wahhabi forces shot at peaceful protests against Shia of Qatif
Back to top button