Saudi Arab
Ignorant Saudi Wahhabis Arbitrarily Arrested Top Shia Cleric Sheikh Kadhem al-Amri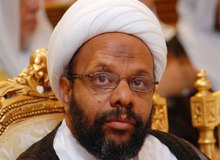 On 2 August 2010 a lot of members of Saudi General Intelligence (Al-Mabahith Al-'Aamma) of al-Madinah al-Monawarah attacked the farm of Sheikh Muhammad Ali al-Amri to pursue some of the expatriate workers work in shops belonging to the farm who sell Shia religious materials and symbols in private which are prohibited by the Saudi authorities .
The Saudi Wahhabis prohibit items and articles belonging to religions other than Islam or the sect other than the  government's interpretation of its version of Sunni Islam .
The security group headed by the officer (Sa'd al-Alawi) raided the farm of Sheikh Muhammad Ali al-Amri , breaking the doors , tearing up many religious banners and signs on the walls , and confiscating other religious materials. They also raided his religious office and a mosque .
Sheikh Muhammad Ali al-Amri , a prominent Shia religious scholar , and its farm considers a prominent Shia religious center in al-Madinah al-Monawarah which was visited by scores of Shia Muslims on pilgrimage and other times .
The office of the Al-Mabahith Al-'Aamma in the same day called his son (Sheikh Kadhem al-Amri) and forced him to sign an undertaking which he refused to sign it in previous time , then he was released .
Next day , the bureau of investigation and public prosecution called Sheikh Kadhem al-Amri again and detained him .
It is worth to mention that in 2001, Sheikh Muhammad al-Amri , 99 years , was arrested and held for about two weeks before being released without charge , because he was visited in his farm by some Iranian pilgrims .
Islamic practice in the Arabian Peninsula is limited to the Wahabbi interpretation of Islam, and practices contrary to this interpretation are discouraged and there is institutionalized discrimination against adherents of the Shia branch of Islam.
The Saudi regime in restricting all forms of public religious expression other than the its interpretation of Islam is a violation of the freedom of thought, conscience, and religion or belief .
The committee for the Defense of Human Rights in the Arabian Peninsula is seriously concerned that the Sheikh Kadhem al-Amri will be subjected to violations of his human rights and may be suffering torture and maltreatment .
CDHRAP calls international human rights organizations to pressure Saudi regime to release Sheikh al-Amri and to halt harassment against Shia citizens in the Arabian Peninsula and let them to enjoy their right of free worship which is guaranteed in the article 18 of the Universal Declaration of Human Rights and is codified in article 18 of the International Covenant on Civil and Political Rights International Covenant on Civil and Political Rights which stipulates that : " everyone has the right to freedom of thought, conscience and religion; this right includes freedom to change his religion or belief, and freedom, either alone or in community with others and in public or private, to manifest his religion or belief in teaching, practice, worship and observance."
And the Declaration on the Elimination of All Forms of Intolerance and of Discrimination Based on Religion or Belief, as its Article 2 (1) stipulates that :
No one shall be subject to discrimination by any State, institution, group of persons, or person on the grounds of religion or other belief.