Saudi Arab
Shias Accuse Saudi Arabia of Mobilizing Salafis to Disrupt Egypt's Unity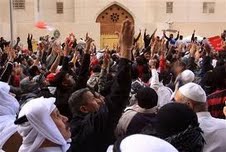 Shia Muslims gathered in front of the Saudi Arabian Embassy in Cairo on Saturday to denounce the Saudi stance on decrees permitting the demolition of shrines, as well as its funding of Salafi movements in Egypt.
Demonstrators said the Persian Gulf kingdom plays a role in mobilizing Salafi Muslims to disrupt Egypt's social security and endanger Sufis and Copts.
Protesters hoisted banners denouncing decrees excommunicating Shias, Sufis and the 25 January revolutionaries, as well as the kingdom's rejection of calls to prosecute ousted Egyptian president Hosni Mubarak.
"You defended Mubarak, pushed Salafis to sow sedition, and pressed for not trying the tyrant", one banner read.
Mohamed al-Dereiny, the head of Egypt's Shia community, said that Shias were invited to protest.
A number of shrines of consecrated saints have been recently attacked by Salafis, who view visiting such places as against Islam. But followers of the Sufi trend vowed to protect the shrines.