Saudi Arab
Saudi King Abdullah dies leaving Wahhabis-takfiris in mourning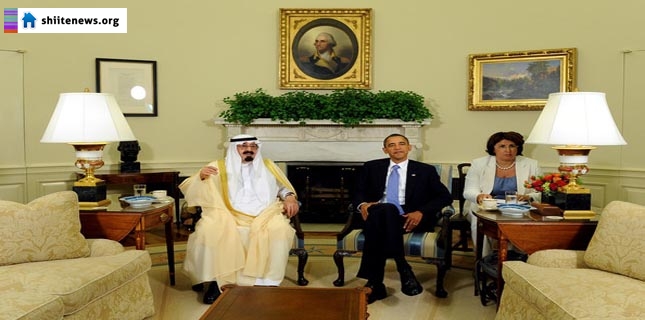 The occupier of holy Islamic land of Hejaz that houses Mecca and Medina i.e. King Abdullah bin Abdulaziz Al Saud has died at the age of 90. House of Saud from Nejd had grabbed holy lands through use of force and imposed their pro-imperialists Wahhabis rule on Muslims of Hejaz who were anti-Wahhabis.
An announcement, made by Saudi state TV early on Friday, also said that his 77-year-old half brother, Salman, has succeeded him.
"Salman bin Abdulaziz Al Saud and all members of the family and the nation mourn the Custodian of the Two Holy Mosques King Abdullah bin Abdulaziz, who passed away at exactly 1 a.m. this morning," said the official statement.
The king reportedly died at hospital, where he had been receiving medical treatment for several weeks.
A political commentator said that now Salafi-Wahhabi-takfiris are mourning, a condition that they disapprove for the followers of the holy and infallible leaders of Islam who mourn the death anniversary of their saints.
Another observer said that although King Abdullah's demise left the Wahhabis-takfiris orphans but now King Salman, the succeeding occupier of Mecca and Medina, would hug them and continue patronage of them by Saudi royal family.
The late Saudi king's funeral ceremony will be held on Friday afternoon.
The official statement further noted that the late king's half brother Muqrin has been named the new crown prince. The new Saudi king has reportedly called on the royal family's Allegiance Council to recognize Muqrin as his crown prince and heir.
King Abdullah, who was admitted to the King Abdulaziz Medical City in the capital Riyadh in late December, had been suffering from pneumonia and was reportedly breathing with the help of a tube.
Examination "revealed pneumonia, which required the provisional insertion of a tube," the Saudi royal court said in a statement on January 2. The Saudi king had two operations in October 2011 and November 2012 because of "ligament slackening" in the upper back. His death has raised concerns about the future of the oil-rich country in the face of anti-government demonstrations.
Salman was named Saudi crown prince in June 2012 after the death of Prince Nayef bin Abdul Aziz. Salman has recently represented King Abdullah at most public events because of the monarch's ailing health. The new king, will also serve as prime Minister and defense minister in the Arab state.
A longtime governor of Riyadh, Salman is reputed as a "progressive" and "practical: prince similar in bearing to his late brother, according to the Saudi-allied Western leaders and media who never backed democracy in the Kingdom and always took pride in the "share values" with Saudi Kingdom because they shared patronage of takfiris and allied terrorists and fanatics.
The 79-year-old is reportedly in poor health and is unlikely to rule for as long as his elder sibling.
King Salman's crown prince will be his younger brother Prince Muqrin, the youngest surviving son of King Abdulaziz, who was named deputy crown prince last year when the kingdom acted to set in stone its structure for the future. Muqrin is said, like the new King, to be committed to cautious reforms, the reforms that never embraced Arabian Peninsula ruled by the occupier monarchs.
Abdullah: a short biography
It is believed that the late Saudi king was born in the Saudi capital, Riyadh, in August, 1924. There is, however, controversy over his actual birth date. Fahda, the eighth wife of King Abdulaziz, was his mother.
He was appointed as the commander of the Saudi National Guard in 1962 and 20 years later was named as crown prince and first deputy prime minister. He became the king of Saudi Arabia in August 2005 following the death of King Fahd, who had succeeded King Khalid in 1982.
Riyadh, staunch supporter of Takfirism
The western leaders' appreciation of the late Saudi king as a proponent of peace comes despite the fact that the Wahhabis-occupied kingdom has played a major role in supporting Wahhabis extremism in various countries, particularly Syria.
Under King Abdullah's rule, Saudi Arabia gradually became an incubator for groups promoting extremism and Takfirism. Off-shoots of al-Qaeda also managed to expand their domain of influence in the Middle East and North Africa, with groups like ISIL (DAISH) committing heinous crimes against followers of other religious communities in Syria and Iraq.
Such support for sectarian violence has also been visible in countries like Pakistan, where thousands of Shia Muslims have been killed in attacks and bombings that seem to be approved by elements inside the monarchy. Saudi-financed Wahhabis-allied Deobandi takfiri terrorists under the leadership of CIA-trained remnants of so-called Afghan jihad, perpetrate genocide against Shia Muslims and also those Sunnis who opposed their anti-Islam takfiri ideology in Pakistan and Afghanistan.
The Al Saud regime has also helped the ferocious Bahraini regime in its deadly crackdown on peaceful pro-democracy protesters and political activists since 2011.