Saudi Arab
Four injured in bomb blast at WWI memorial in Saudi Arabia's Jeddah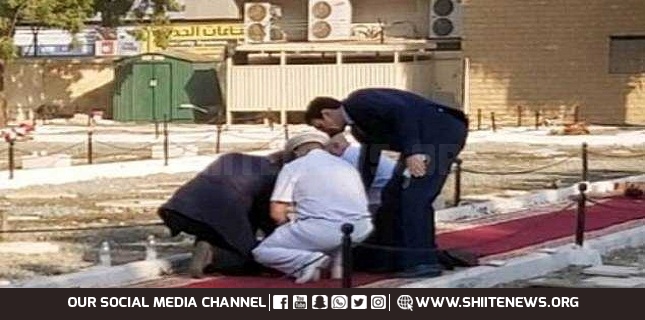 As many as four people have reportedly been wounded after a purported bomb explosion hits a World War I memorial ceremony that was being attended by European diplomats in the Saudi Arabian port city of Jeddah.
The blast hit a non-Muslim cemetery, where the ceremony was being held, on Wednesday.
The French Foreign Ministry said the event had been joined by "by several consulates, including that of France."
The Armistice commemoration "was the target of an IED (improvised explosive device) attack this morning, which injured several people," the Ministry added.
Roads leading up to the cemetery in central Jeddah were blocked by the Saudi traffic police, an AFP photographer said.
Last month, a Saudi citizen wounded a guard at the French Consulate in Jeddah with a knife. France, itself, has also been witnessing a spate of similar violent attacks.
Western officials, media outlets, and observers have, meanwhile, been rushing to suggest that those, who have been staging such attacks, have been informed by "Islamic beliefs" and acted out of outrage over French President Emanuel Macron's multiple insults against Islam and its Prophet Muhammad (PBUH) over the past several months.
Over the past months, the French head of state has attacked the sentiments of nearly two billion Muslims worldwide on several occasions.
In September, he defended the "right to blaspheme" in France after French satirical magazine Charlie Hebdo republished sacrilegious cartoons of Prophet Muhammad. On October 2, he claimed in a speech that Islam was "in crisis globally" and announced his plan "to reform Islam" to make the faith, what he called, more in line with French values.
Later, Macron supported a French teacher's displaying of cartoons insulting the Prophet in his class. "France will never renounce caricatures," Macron declared, defending the teacher for "promoting freedom."
The French president's effrontery has opened the floodgates of backlash from Muslims around the world, with numerous Muslim states and leaders issuing condemnatory statements against him and people rising in thousands-strong protests. Many Muslim companies and associations have also boycotted French items in protest.
At the same time as denouncing profanity and condemning attempts at justifying it under the pretext of "free speech," Muslim countries, authorities, and scholars have also invariably condemned extremism and violence, including the type that has been witnessed across the world since Macron's comments.