Saudi Arab
Ex-Saudi spy chief: Palestinian leadership's opposition to Arab-Israeli normalization reprehensible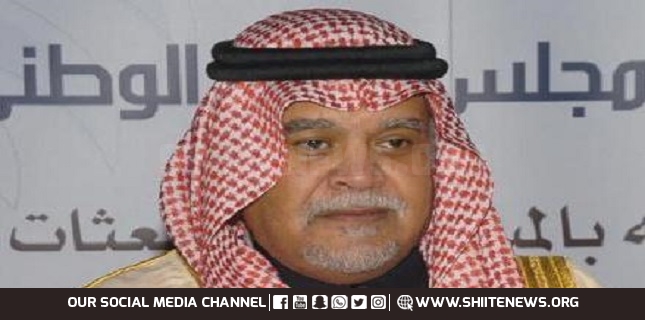 Saudi Arabia's former spy chief and ambassador to the US, Prince Bandar bin Sultan bin Abdulaziz, has criticized the Palestinian leadership for opposing the United Arab Emirates (UAE) and Bahrain move to normalize relations with Israel.
Speaking in an interview with Saudi-owned al-Arabiya television news network aired on Monday, the senior member of the House of Saud labeled the Palestinian authorities' criticism as "transgression" and "reprehensible discourse."
"This low level of discourse is not what we expect from officials who seek to gain global support for their cause," he said in scathing remarks.
With Washington's mediation, the UAE and Bahrain agreed last month to establish diplomatic ties with Israel, in deals condemned by Palestinians as a "stab in the back" of the oppressed nation and a betrayal of its cause against Israeli occupation.
"The Palestinian cause is a just cause but its advocates are failures, and the Israeli cause is unjust but its advocates have proven to be successful. That sums up the events of the last 70 or 75 years," bin Sultan commented.
The former Saudi spy chief then harshly criticized the Palestinian leadership for what he claimed to be repeated missed opportunities to reach an accord with the Israeli regime, and for receiving Saudi aid while ignoring the Riyadh regime's political agenda.
"Israel was working on increasing its influence, while the Arabs were busy with each other. The Palestinians and their leaders led these disputes among the Arabs," bin Sultan said.
Relations between the Palestinians and the conservative Persian Gulf kingdoms have been declining for years.
The Palestinian Authority has not received aid from the UAE since 2014, while Saudi Arabia began aggressively jailing and prosecuting members of Hamas resistance movement in 2017.
Experts and pundits believe Saudi Arabia has started shifting the public discourse on Israel, and bin Sultan's statements are in line with warming ties between the kingdom and the Tel Aviv regime.
Lebanon's al-Mayadeen television news network, citing an unnamed former Israeli security official, lately reported that Saudi Crown Prince, Mohammed bin Salman, has paid several visits to Tel Aviv so far.
"Foreign reports indicate that Mohammed bin Salman has enjoyed the Tel Aviv sunshine several times," the official was quoted as saying on condition of anonymity.
This is not the first time that Bin Salman's trips to Israel are being disclosed.
Back in October 2017, an Israeli official confirmed that Saudi Arabia's de facto ruler had traveled to Israel and held consultations with senior officials there.