Palestine
Israeli police, Ethiopian protesters clash in Tel Aviv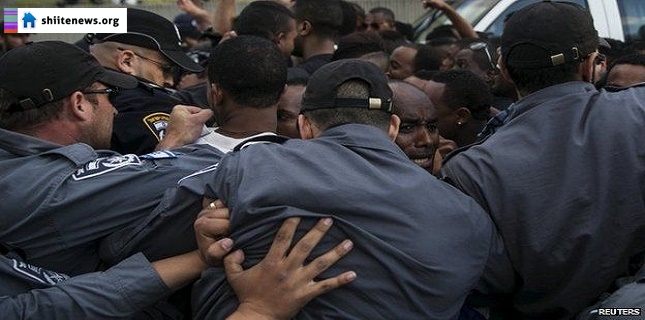 Clashes have again broken out between Israeli regime forces and Ethiopian Jews protesting persisting racial discrimination against them leading to the arrest of over a dozen native Ethiopians.
At least 19 protesters were reportedly arrested as hundreds of demonstrators marched from a central square in Tel Aviv on Monday, blocking roads and halting traffic in the vicinity.
The protesters also waved flags against racism and chanted slogans such as "We've had enough, we're a new generation."
The demonstration was the latest protest action by the Ethiopian community in the Israeli occupied territories against what they condemn as continued discrimination by Israeli authorities against Jews of African descent.
The protest rallies first broke out last month after the publication of video footage showing an Israeli police officer beating a soldier of Ethiopian descent.
The latest protest rally came as the Ethiopian community in Tel Aviv grew furious at the local attorney general's decision against prosecuting the Israeli police officer responsible for beating the native Ethiopian soldier.
Those who took part in the protest rally insisted that the attorney general's refusal to prosecute the offending Israeli soldier proves that Ethiopians in Israel have no basic human rights.
According to local press reports, prior to the protest action on Monday, Israeli soldiers of Ethiopian descent organized an online demonstration urging other native Ethiopian soldiers to "abandon the system that has abandoned you."