Palestine
Tens of thousands perform Friday prayer at Al-Aqsa Mosque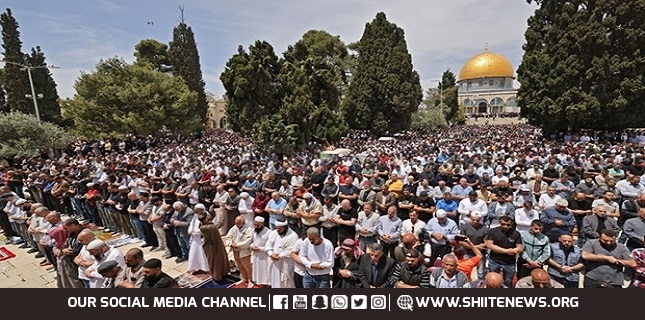 Tens of thousands of Palestinians performed Friday prayer at Al-Aqsa Mosque amid Israeli police restrictions.
Local sources affirmed that thousands of worshipers managed to perform the Friday prayer in the holy site despite the Israeli restrictions imposed at the gates and entrances of the Old City.
The Israeli police forces set up dozens of roadblocks, conducted extensive searches and checks on Palestinians and their ID cards, and prevented many of them from reaching the holy Islamic site.
Prior to the Friday prayers, the Israeli forces arrested a young man after assaulting him in the Lions Gate area, one of Al-Aqsa gates.
Israeli police also detained three Jordanians in the Mosque courtyards.
Earlier in the morning, thousands performed dawn prayer at the holy site despite Israeli restrictions.
Since the early hours of dawn, thousands of Palestinians gathered at the gates of the al-Aqsa Mosque on their way to attend the dawn prayer, confirming the Palestinians' spiritual links to the holy site.
Similar gatherings were also reported in several West Bank towns, amid the participation of families of Palestinian martyrs and prisoners.