Palestine
Palestinian father killed by Israeli gunfire ahead of daughter's wedding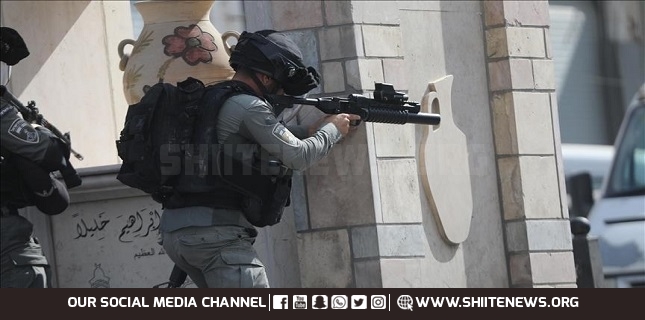 A Palestinian man has succumbed to the gunshot wounds he suffered after Israeli forces shot him in the northern West Bank city of Tubas, just a week before his daughter's wedding ceremony.
Salah Tawfiq Sawafta was shot by Israeli soldiers in the head as he was walking out of a local mosque near his home in Tubas after performing morning prayers in the northern West Bank city on Friday, Palestine's official Wafa news agency reported.
Later in the day, the Palestinian health ministry confirmed in a press statement that the 58-year-old suffered a critical injury in the head and succumbed to his wounds at a hospital.
Video footage showed Sawafta unarmed and attempting to enter a store before being shot. Reports said Sawafta had sent out invitations (pictured below) to his daughter's wedding, scheduled to be held next week.
Palestinian media also said another unidentified man sustained wounds to his leg from Israeli live ammunition.
Palestine's Prime Minister Mohammad Shtayyeh condemned Sawafta's killing, saying the Israeli regime would persist with its acts of terrorism as long as the world fails to cease double standards in dealing with Israeli crimes and allows Tel Aviv to continue to act with impunity.
Younis al-Asi, the governor of Tubas and the Northern Jordan Valley, condemned the killing and said, "The Israeli occupation seeks to achieve the peace process through its repeated attacks on our people and the daily killings of citizens, without being held accountable by the international community."
According to the Palestinian health ministry, the Israeli regime has claimed the lives of 134 Palestinians since the start of the year. That figure includes 49 Palestinians, including 17 children, who were killed in the recent three-day bombardment of the Gaza Strip.
Over 50 injured by Israeli fire in Nablus
In another development on Friday, the Palestinian Ma'an news agency said 51 civilians were injured during clashes with the occupation forces in the town of Beita and the village of Beit Dajan in the northern West Bank city of Nablus.
Ahmed Jibril, a spokesman for the Red Crescent in Nablus, told Ma'an that 37 civilians suffered respiratory problems as a result of tear gas inhalation or were injured by rubber-coated metal bullets and burns caused by a gas bomb during clashes in Beit Dajan.
In Beita, the Red Crescent crews transported four wounded Palestinians and eight others who suffered respiratory problems to a clinic.
Wafa reported that Israeli forces had over the past two days detained nine Palestinians and wounded two others in the West Bank districts of Tubas, Jenin and al-Quds.